Posted by Elena del Valle on August 24, 2007
Quince pedicure set
In May 2007, entrepreneur Jennifer Fallon launched Myquincefavors.com, a website targeting young Latinas getting ready to celebrate their 15 birthday with traditional quinceañera parties. Now there are 800 products, mainly quinceañera party favors, as well as accessories and gifts for the court, on the website. Company representatives indicate they pay special attention to personalization, offering tags for many of the party favors to be personalized as well as embroidered and engraved gifts.  
"I have experience in the reception party favor market and I am always looking for the trend-setting colors and styles. I noticed that today's 15-year old girl dreaming of her perfect Quincenera doesn't have many options when it comes to party favors and accessories," said Fallon, owner of Smart Marketing, Inc. and Myquincefavors.com.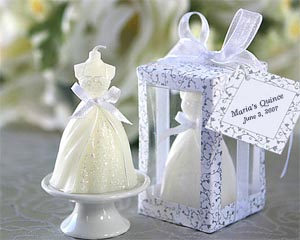 Quince gown candles are among the website's top selling items
"I saw an opportunity to market trend-setting and cool designer party favors and gifts that appeal to the modern 15-year old girl. I am always looking for unique and elegant products and carefully hand-pick each items we sell on My Quince Favors.com. Our goal is to help the new generation of Latinas who are comfortable blending old traditions with their own modern sense of style," said Fallon.
Candles are very popular. Best selling favorites include happily-ever-after, orchid, ball of roses and quince gown candles, forever photo coasters, and a tiara place card holder.
The company has a staff of 15 including several Spanish speakers. Fallon markets the website via the main search engines and on sites reaching 14-15 year old girls such as quincegirl.com. She has also experimented with print advertising and trade shows.
---
"Latino Family Dynamics" audio recording


 Brenda Hurley and Liria Barbosa
Discuss
Latino purchasing habits and products they favor
Latino family characteristics
Latinos and extended families
Division of duties, responsibilities within the family
Who is the decision maker in the Latino family
Who is the information provider in the Latino family
Click here to find out about Latino purchasing habits and "Latino Family Dynamics"
---