Posted by Elena del Valle on August 22, 2007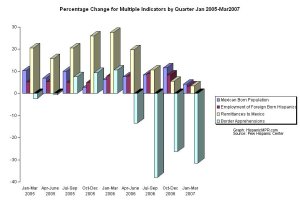 Although the Mexican born population in the United States has increased over the last three years and continues to increase, the rate of growth seems to have slowed in the last few months. According to a May 2007 report by the Pew Hispanic Center, it is difficult to determine exact changes in immigration from Mexico to the United States. It appears the percentage growth of south to north migration has been decreasing since mid 2006.
The researchers took into account four indicators in reaching their conclusion: the size of the Mexico born population of the United States; the number of Hispanic immigrants employed in the United States; Bank of Mexico remittance receipts; the number of apprehensions of individuals crossing the border illegally.
---
Target Latinos effectively by anticipating changes in the market with
"Hispanic Projections with 2007-08 updates" audio recording

Presenter Roger Selbert, Ph.D.
Find out
About Latino buying power growth in the future
How Latino market growth compares with other markets in the U.S.
What drives the rise of Latino economic clout
Who should target the Latino market
What is the size of the Hispanic affluent market
If the luxury Latino market is growing 
About Hispanics who earn more than $100,000 annually
Click here to purchase "Hispanic Projections with 2007-08 updates"
---
They concluded that the rate of growth of immigration from Mexico to the United States may have slowed in the second half of 2006 and first half of 2007. Due to inexact data sources, the researchers are unable to identify the reasons behind the possible changes or predict future trends. At the same time, they can't tell if the slower immigration growth is the result of political, economic and border control policies or other factors.   
In mid 2000 there were 4 million Mexican born residents in the United States. By early 2007 that number had reached 7 million. While many focus on the large number of Mexican immigrants entering the country, close inspection reveals a gentler slope in the growth over the last months.
Does the slowest rate of growth in remmitances to Mexico since 2003; half the increase in employment of Hispanics in the first quarter of 2007 than in the first quarter of 2004; and a 24 percent drop in apprehensions in the U.S. Mexico southwestern border compared to last year, in spite of increased patrols, reveal a lasting trend?