Posted by Elena del Valle on August 21, 2007
Ursula Mejia-Melgar, editor and Hispanic marketing manager, General Mills
Photo: General Mills, Inc.
Minneapolis, Minnesota – General Mills Inc. re-launched its free Spanish-language lifestyle advertorial magazine, Qué Rica Vida, as a quarterly publication. Last year it was published three times. This year, the publication, distributed via direct mail, at stores and community-based venues, is expected to have an average of 64 pages and a circulation of 350,000. The newly launched issues will have enhanced content and new layout and design. Qué Rica Vida was most recently published last spring. 
 
The magazine will have four sections to be paired with General Mills brands:  Ser Madre for moms, Ser Amiga with a friends slant, Ser Mujer, about being a woman and Ser Mejor, about self improvement. According to promotional materials, the magazine's image and content were revised in response to consumer feedback. Company representatives declined to share information about the General Mills Hispanic market campaign budget or identify what percent of their overall budget they dedicate to Latino markets.
---
"Latino Family Dynamics" audio recording


 Brenda Hurley and Liria Barbosa
Discuss
Latino purchasing habits and products they favor
Latino family characteristics
Latinos and extended families
Division of duties, responsibilities within the family
Who is the decision maker in the Latino family
Who is the information provider in the Latino family
Click here to purchase "Latino Family Dynamics"
---
Qué Rica Vida exceeded its first-year goal of enlisting 100,000 subscribers, and in its second year, we have decided to focus on further improving the magazine's appeal and readability," said Ursula Mejia-Melgar, editor and Hispanic marketing manager, General Mills. "For that reason we listened to our consumers and worked with our design team, the Betty Crocker Kitchens, in-house food stylists and photographers to create a beautiful publication and an integrated platform that will truly connect with our readers, emotionally as well as practically."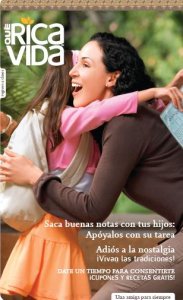 Que Rica Vida July 2007
Qué Rica Vida, Spanish for "What a Rich and Wonderful Life," the magazine and its matching website quericavida.com is the cornerstone of General Mills' year-old, multi-brand, Hispanic marketing initiative of the same name.
This year, General Mills plans community and public relations programs created in conjunction with Hispania Public Relations of Miami and Latino Family Media of Los Angeles. General Mills, with annual net sales of $13.4 billion, is a leading global manufacturer and marketer of consumer foods products. Its global brand portfolio includes Betty Crocker, Pillsbury, Green Giant, Häagen-Dazs, and Old El Paso.