Posted by Elena del Valle on August 19, 2007
Customer Loyalty Summit
Create a Great Customer Experience that Drives Profitability
November 12-15, 2007
The Westin Colonnade, Coral Gables, FL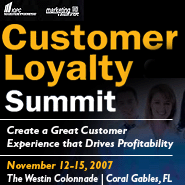 IQPC is pleased to introduce our Customer Loyalty Summit, designed to explore best strategies for developing and maintaining customer loyalty. Find out how to prevent your brand from becoming a commodity and how to keep your customers. We will take a big picture, strategic look at the topic by demonstrating how it is the key to competitive advantage and impacts the bottom line. A small increase in customer loyalty can have a huge impact on bottom line revenue. Attendees will find out what's new, what's proven, and what works in:
• Marketing communications
• Measurement and analysis
• Customer education and response
• Technology, self service and service enabling
• Human Resources and motivation
• Fostering a customer focused culture.
For more information on our conference content, please visit www.iqpc.com/us/customerloyalty or call 1-800-882-8684