Posted by Elena del Valle on August 12, 2007
PRSA 2007 International Conference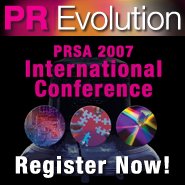 October 20 – 23, 2007
Philadelphia, PA
Life, liberty and the pursuit of exceptional public relations
It's the public relations event of the year. Learn new strategies and tactics — including ways to capitalize on new media and technologies — from more than 200 experts while sharing insights with thousands of your industry peers October 20-23 at the PRSA 2007 International Conference, PR Evolution: Innovation. Collaboration. Influence.
Join us in Philadelphia for keynotes with acclaimed actress and humanitarian activist Mia Farrow, leading political strategist Donna Brazile, "Meet the Press" moderator Tim Russert and others.
Session Highlights
Insights into Effective Multicultural Marketing Campaigns * Understanding and Influencing the New Influencers * The New Landscape: The Evolution of Hispanic Media & Measurement * Campaigning on YouTube and in Second Life * Leveraging Multicultural Communities in a Public Relations Campaign * Communications that Connect: Innovative Uses of Technology to Reach a Global Internal Audience * Video Blogging to Build Brand Reputation * Cross Border Communications: Practicing Public Relations in a North American Marketplace * Think the Press Release is Dead? Think Again *Strange Bedfellows: How Environment and Development Issues Bring Companies, Activists, Communities and Other Interests Together and more!
Why wait? Register today and save $200! Register online at www.prsa.org/conf2007