Posted by Elena del Valle on August 6, 2007
 "Infinito Palmeras" from Mexican DJ producer Galapago
Photos: La Corporacion Muzic
Pasadena, California – Independent record label La Corporación Muzic recently released two new titles from the Nopalbeat Records catalog, "Musica Moderna" from DJ producers Sussie 4 (cuatro) and "Infinito Palmeras" from Mexican DJ producer Galapago. They are the second and third releases from the La Corporación Muzic/Nopalbeat Records deal.
"Musica Moderna" is described as a blend of chill out, lounge, jazz, house and trip hop music. "Infinito Palmeras," an experimental project that fuses diverse rhythms and colors of Latin American music with tones of vanguard, combines house, lounge, funk, and hip hop with a touch of reggae and cumbia music.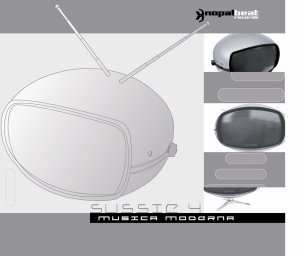 Sussie 4's "Musica Moderna" album
Electronica and house music maker Sussie 4, made up of DJ producers Cesar Gudino and Odin Parada, was created in 1998 in Guadalajara, Mexico. They have performed in national festivals Techno Geist 2001, Union Fest 2001, Art 01, Mexican Electronics Festival, Beach MTV 2002, and Festival Rock To Park 2001 in Bogota, Colombia. Additionally, Sussie 4 has shared the stage with artist's Bentley Rhythm Ace, Gus Gus, DJ Hell, Sven Väth, Deep Dish and Buscemi. "Musica Moderna" was originally released in Mexico in 2002. Galapago has played in Venezuela, Colombia, Cuba, France and Spain.
La Corporación Muzic, based in Pasadena, California, is an independent record label that specializes in signing and developing Latino talent for the U.S. bilingual market with exclusive distribution by Navarre. Other titles released on La Corporación Muzic include Maxim! En Espanol Rockz, Latin Explosión and Peter Michael Escovedo Moments.
---
Discover how to reach Latinos in language today with
"Hispanic Market Translation Issues" audio recording

Presenter Martha E. Galindo
Translation company owner Martha E. Galindo explains
Why it's important to reach your clients in language 

Ins and outs of translations issues

How to select a translator

How to save on translation costs
Click here to purchase "Hispanic Market Translation Issues"
---
Click the button to hear the song Solo Voy:
Click the button to hear the song Salsa y Control:
---