Posted by Elena del Valle on August 3, 2007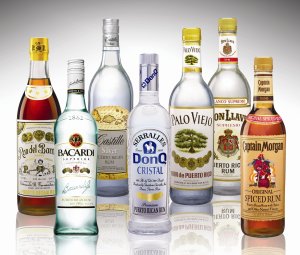 Bottles of Puerto Rican rum
Photo: Rums of Puerto Rico
New York, New York — Rums of Puerto Rico was the spirit sponsor for the recent global premiere of the Picturehouse Productions movie "El Cantante" about singer Hector Lavoe starring Marc Anthony and Jennifer López.
"El Cantante" is the story of the Puerto Rican salsa singer Hector Lavoe (Anthony), his relationship with his wife, Nilda Ramón Pórez, known as Puchi (López), his skyrocket to international fame and the personal pain he faced toward the end of his life. The film was directed by Leon Ichaso (Piñero) and produced by Jennifer López, Julio Caro, Simon Fields and David Maldonado. It was written by Leon Ichaso, David Darmsteader and Todd Anthony Bello.
---
"Latino Family Dynamics" audio recording


 Brenda Hurley and Liria Barbosa
Discuss
Latino purchasing habits and products they favor
Latino family characteristics
Latinos and extended families
Division of duties, responsibilities within the family
Who is the decision maker in the Latino family
Who is the information provider in the Latino family
Click here to purchase "Latino Family Dynamics"
---
"Rums of Puerto Rico is honored to be a part of the debut of this important film which tells the story of the beloved singer Hector Lavoe, who was called El Cantante de Cantantes (the singer of singers). On the occasion of the film's premiere events, Rums of Puerto Rico's mixologists created six cocktails. Each cocktail was named after Lavoe or one of his songs," said Karen Garnik, chief marketing officer for Rums of Puerto Rico.
The Rums of Puerto Rico new cocktails, served for the first time at the three movie premieres, are: Capitan Lavoe, Murgariña, Che Che Cole, Todopoderoso, Bleu Lavoe, and La Gran Fuga. See complete recipes below.
Capitan Lavoe, 1/2 oz. Captain Morgan Original Spiced Rum, 1/2 oz. Captain Morgan Parrot Bay, 2 oz. guava juice and 2 oz. pineapple juice
Murgariña, 1 1/2 oz. Don Q Limón, 1/2 oz. Don Q Cristal, 2 tbsp. sugar
Che Che Cole, 1 oz. Captain Morgan Parrot Bay, 1/2 oz. Don Q Cristal, 1/2 oz. guava juice, 1 oz. pineapple juice and a splash of tonic
Todopoderoso, 1 oz. Don Q Reserva Añejo, 1/2 oz. sour mix and splash of grenadine
Bleu Lavoe, 1 1/4 oz. Bacardi Razz, 2 oz. sour mix, 2 oz. pineapple juice and 1/2 oz. blue Curaçao
La Gran Fuga, 1/2 oz. Bacardi Peach Red, 1/2 oz. Bacardi Superior, 1 1/2 oz. pineapple juice and 1 oz. grenadine