Posted by Elena del Valle on July 31, 2007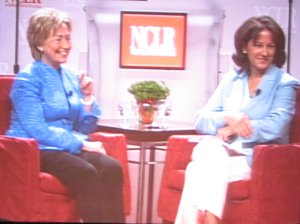 Democratic Senator Hillary Clinton and Monica Lozano
U.S. Democratic Senators Hillary Clinton from New York and Barack Obama from Illinois made appearances at this year's National Council for La Raza annual conference, held in Miami Beach. The presidential candidates were hosted in back to back sessions Sunday July 22. Clinton's session, dubbed "Latinas Brunch – Una Charla con Hillary" (a chat with Hillary) preceded Obama's "Foro Del Pueblo Con Sen. Obama" (People's Forum with Sen. Obama).
Clinton, scheduled from 11 to 12:30, participated in a brief Q & A exchange with Monica Lozano, board chair, NCLR at 12:15 following an opening statement from Andrea Bazan-Manson, vice chair, NCLR board; comments from five sponsor representatives (Geico, General Mills, Coca Cola, Toyota, and Wachovia); and a five-minute address from Florida Republican Congresswoman Ileana Ros-Lehtinen, who left the meeting room before Clinton appeared on stage. The session concluded with a Mariachi band amid congraulatory cheers in celebration of former NCLR president Raul Izaguirre's birthday.
Many attendees walked from Hall B across the large Miami Beach Convention Center, to stand in line in Hall D where Obama was scheduled to speak at 1:30 pm. The audience waited impatiently until 1:50 when Janet Murguía, president and CEO, NCLR and Maria Pesqueira of Mujeres Latinas en Accion, an NCLR affiliate, welcomed Obama enthusiastically.
Although the tone of the presidential candidates was slightly different, Clinton's session was informal and Obama relied on prepared remarks; they both covered Latino oriented issues such as immigration reform, education, and health care. They both blamed anti Latino and anti immigration sentiments in the United States on people's fears and unfavorable economic conditions. The topic which set them apart was that while Clinton never mentioned the Iraq war, Obama twice brought up the topic. Once, he suggested the $275 million dollars a day spent on the war in Iraq would be better spent on education and crime prevention. Toward the end he shouted "Bring our troops home" to much applause from the audience.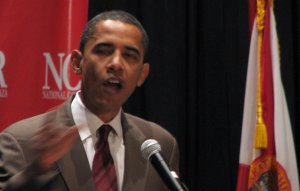 Democratic Senator Barack Obama
Wearing an electric blue jacket and looking comfortable, Clinton emphasized the importance of education and health care for everyone, promised her best efforts toward passing immigration reform legislation and smiled when asked about her husband. "When I'm elected, I'm going to send my husband around the world so the world knows we're back to cooperating," she said in one of her final remarks.
Sporting a brown jacket and burgundy tie, Obama spoke confidently to the expectant crowd about Americans' desire for a change. He emphasized his experience building coalitions among diverse groups, the importance of having everyone be represented at the table, and his track record. "This isn't rhetoric for me. I walk the walk." He received much applause when he said: "People are hungry for change all across America." In relation to the Iraq war and Latinos: "Latinos are over represented (among the troops). They shouldn't have to beg for disability."
In addition to the political presentations, the conference, held July 21-24, 2007, offered consumer and business workshops. Registered attendees could enter the Latino Expo USA. Exhibitors included government organizations, military recruiters, car and media companies, nonprofit organizations and others peddling their products and services to the hundreds of attendees.
Founded in 1968, the National Council for La Raza, is one of the largest and best known national Hispanic civil rights and advocacy organizations in the country. NCLR, a private, nonprofit, nonpartisan, tax-exempt organization headquartered in Washington, DC has operations in Atlanta, Chicago, Los Angeles, New York, Phoenix, Sacramento, San Antonio, and San Juan, Puerto Rico.
---
"Marketing to New Hispanic Moms – a case study" audio recording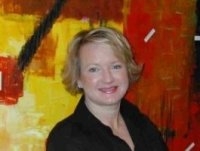 Presenter Cynthia Nelson, COO, Todobebe
Find out about
• New Latina mom market
• Baby demographics including market size, profile
• New moms' language preferences
• Latino baby market trends
• Factors influencing Hispanic baby market
• Location of new Hispanic moms' market
• Issues affecting new Latino moms
• Todobebe strategies
Click here to purchase "Marketing to New Hispanic Moms – a case study"

---