Posted by Elena del Valle on July 27, 2007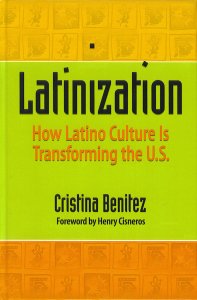 Latinization cover
First time author Cristina Benitez explores the positive impact of Latinos on mainstream America in her recently released 128-page book, Latinization: How Latino Culture is Transforming the U.S. (Paramount Market Publishing, $24.95). The second generation Latina relied on 20 years of Hispanic marketing experience and the input of 20 leaders.
In the book, she also included quotes and the insights of 14 men and six women in the arts and sciences, many from the Chicago area, in her efforts to define the influence of Hispanics on American culture. The leaders Benitez consulted include Hispanics and non Hispanics; entrepreneurs, authors, artists, performers, managers and the first woman to walk in space.
They are: Juan Andrade, Jr., president, United States Hispanic Leadership Institute; Rick Bayless, a Mexican cuisine expert; Aldo Castillo, an art dealer, artist and human rights activist; Henry Cisneros, founder and chairman, CityView; Mary A. Dempsey, commissioner, Chicago Public Library; Robert Fitzpatrick, Pritzker director and chief executive officer, The Museum of Contemporary Art; Henry Godinez, resident artistic associate, The Goodman Theatre; Juana Guzman, vice president, National Museum of Mexican Art; Carlos R. Hernandez, executive director, Puerto Rican Arts Alliance; Achy Obejas, author; Sylvia Puente, director, The Center for Metropolitan Chicago Initiatives of The Institute for Latino Studies, University of Notre Dame; Jorge Solis, director, Illinois Division of Banking; Kathryn Sullivan, president and chief executive officer, Center of Science & Industry; Andrés T. Tapia, chief diversity officer and emerging workforce solutions leader, Hewitt Associates; Studs Terkel, author; Carlos Tortolero, founder and president, National Museum of Mexican Art; José A. Vargas, founder and executive director, The International Latino Cultural Center; Eduardo Vilaro, founder and artistic director, Luna Negra Dance Theater; Father Bruce Wellems, pastor, Holy Cross/Immaculate Heart of Mary Parish.
Benitez is the founder of Lazos Latinos, a Chicago branding and advertising company specializing in Hispanic markets. Prior to founding her company in 1998, she was senior vice president, Ethnic Marketing, DraftWorldwide; before that she was vice president at FOVA, Grey Advertising's Hispanic marketing group. Her experience includes teaching secondary and college students Spanish for eight years. She is a board member of the Gateway Foundation, The Chicago Public Library, and The Hispanic Alliance for Career Enhancement and Luna Negra Dance.
---
Click here to purchase Latinization
---