Posted by Elena del Valle on July 23, 2007
Cynthia Nelson, chief operations officer, TodoBebe
Photo: Cynthia Nelson
A podcast interview with Cynthia Nelson, chief operations officer, TodoBebe, is available in the Podcast Section of Hispanic Marketing & Public Relations, HispanicMPR.com. During the podcast, she discusses marketing to Hispanic moms and Todobebe with Elena del Valle, host of the HispanicMPR.com podcast.
Cynthia joined the Todobebé team in 2004 as COO. In her current role, she is responsible for corporate operations, strategic partnerships, and product development and licensing for Todobebé's media channels including TV, radio, Internet, direct mail, publishing, products, research, and events. This role includes global profit and loss responsibility and legal oversight. 
---
Read Cynthia's chapter about "Marketing to U.S. Hispanics Online" in
Hispanic Marketing and Public Relations Understanding and Targeting America's Largest Minority book

Click here to buy Hispanic Marketing & Public Relations today!
---
A serial entrepreneur, Cynthia founded several boutique strategy and branded entertainment consulting companies and has served on the board of several Silicon Valley start ups. In her most recent venture, Nexos Consulting, Cynthia worked with Fortune 500 clients and brand managers by providing research, strategic planning and business development for companies such as AOL, Omnicom, Volkswagen and Audi, Panasonic de Mexico, Kraft, Delta Airlines, and USA Networks.
She is a contributing co-author of a chapter in the Hispanic Marketing & Public Relations book. Cynthia started her career in 1984 as an independent computer consultant in Los Angeles. She then joined Ingram Micro, a global supplier of technology products and supply chain management services managing global accounts and supplier relations.
To listen to the interview, scroll down until you see the "Podcast" on the right hand side, then select "HMPR Cynthia Nelson" click on the play button below or download it to your iPod or MP3 player to listen on the go, in your car or at home. To download it, click on the arrow of the recording you wish to copy and save to disk. The podcast will remain listed in the July 2007 section of the podcast archive.

Click the button to hear the podcast:
---
"Marketing to New Hispanic Moms – a case stuy" audio recording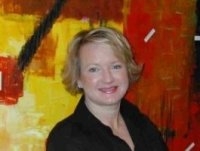 Presenter Cynthia Nelson, COO, Todobebe
Find out about
• New Latina mom market
• Baby demographics including market size, profile
• New moms' language preferences
• Latino baby market trends
• Factors influencing Hispanic baby market
• Location of new Hispanic moms' market
• Issues affecting new Latino moms
• Todobebe strategies
Click here to purchase "Marketing to New Hispanic Moms – a case study"

---