Posted by Elena del Valle on July 16, 2007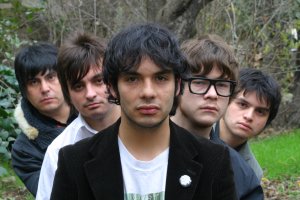 Los Bunkers
Photo: Nacional Records
Chilean rockers Los Bunkers released a "Live in Concert" DVD earlier this year. The album was recorded during the five-member band's sold out show at the Teatro Teleton in Santiago, Chile. In addition to the DVD, the band's record label Nacional Records, introduced an iTunes audio edition at the same time it released the DVD.
The DVD features live performances of Los Bunker's U.S. radio hits like "Llueve Sobre la Ciudad," "Ven Aquí" and "Ahora Que No Estás" as well as previous hits that were never released in the United States. The DVD also includes six music videos for "Ven Aquí", "Llueve Sobre la Ciudad", "Ahora que No Estás" and "Mientele" from the album "Vida de Perros," and two videos from previous albums until now only seen in Chile.
Los Bunkers hit the U.S. scene last year with their North American debut "Vida de Perros." At the same time, the album struck a chord among Mexican fans. In just the last year, Los Bunkers visited Mexico five times. Last year, the band also played at Vive Latino and they are slated to perform there again this year. "Ahora que no estás" has played on MTV Tr3s, LATV and mun2. Los Bunkers were nominated for Univision's Premios Lo Nuestro for Best Rock Album.
Los Bunkers is made up of two sets of brothers and a friend: Gonzalo Lopez (bass), Mauricio Duran (guitar and vocals), Alvaro Lopez (vocals and acoustic guitar), Mauricio Basualto (drums) and Francisco Duran (guitars, keyboards, harmonica and vocals). 
Los Bunkers was formed in 1999 in Concepcion, Chile. Later they moved to Santiago, Chile and released three albums, "Los Bunkers" (2001), "Cancion de Lejos" (2002) and "La Culpa" (2003) before signing to Nacional Records for their first U.S. release, "Vida de Perros."
To listen to the single "Lueve Sobre la Ciudad (live)" from the "Live in Concert" album click the button to hear the podcast:

---
"Emotional Branding: How to capture the heart and mind of the Hispanic consumer" audio recording


"Emotional Branding" was recorded January 2007 during the Strategic Research Institute 13th Annual Blockbuster Marketing to U.S. Hispanic and Latin America conference in Miami, Florida. Receive a free downloadable copy by completing our Visitor Survey.
 Click here to receive a free copy of Emotional Branding
---