Posted by Elena del Valle on July 13, 2007
Photo: Level 4 Press
Is Erik Rush a forward thinking problem solver or a land hungry imperialist? In the 220-page book Annexing Mexico: Solving the border problem through annexation and assimilation (Level 4 Press, $24.95) he shares his plans to take over Mexico in order to solve the United States Mexico immigration issues.
He argues that the 2,000 mile United States and Mexico border is more than just a boundary between nations; he sees it as a chasm that separates a wealthy global superpower from a poverty-stricken Third World Country. Perhaps, as he believes, the Mexico border has become a finish line for millions of Mexicans desperate for a better life. Instead of protecting the border, Rush says, get rid of it by absorbing the entire country.
"We're like a dog chasing its tail," said Rush. "We spend billions of dollars each year to keep immigrants out, then billions more on their education and healthcare once they get here anyway. We'd be smarter to spend those billions to improve and annex Mexico. We would solve the immigration problem and reap a host of other benefits."
On the other hand, researchers point out that immigration from Mexico to the United States is past its peak and showing signs of slowing down further. They also say that the Mexican economy is likely to improve, reducing the desirability of northern migration.
Rush readily admits that a peaceful annexation of Mexico is a huge project that would require arduous political, economic and cultural work and years of integration. He points to polls that show 40 percent of Mexicans would like to live in America and 10 percent of Mexico's population is already here. Would American's ever agree to annex Mexico? How about Mexicans? Could it work? Would it matter that the reason Mexicans have migrated in the past is less relevant today and for years to come? 
---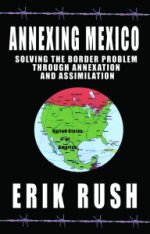 Click here to purchase Annexing Mexico
---
"Mexicans are generally a hard-working, family-oriented population," said Rush.  "Most Americans can appreciate those traits. The problem now is U.S. taxpayers are rightfully angry about carrying someone else's load. The animosity will dissipate when the burden is shared equally by annexing Mexico and improving conditions there." 
Rush believes merging with the United States would bring health care benefits to Mexico, save American taxpayers $1.4 billion in emergency medical care to undocumented immigrants, and provide the combined country with energy independence thanks to Mexico's oil reserves. 
"Mexico has huge oil reserves that could eliminate our reliance on OPEC," said Rush. "The state run oil business in Mexico operates at a loss right now, which is testament to the corruption in the Mexican government. There's no excuse for this; it's time for a dramatic change."
Rush was born in New York City in 1961, the first child of a white father and a black mother. His family lived in the same neighborhood as Betty Shabazz, widow of slain civil rights activist Malcolm X, and her children. As a result he grew up keenly aware of the unfolding civil rights issues of the day. Rush has worked as a musician and a biomedical researcher.
In 1996, one of his short stories won a Chrysalis first place award for short fiction. His first novel, The Angels Fell, was released in 2002. Rush is a contributor of social commentary to WorldNetDaily and is a staff writer and acting associate editor and publisher for the New Media Alliance, Inc., a non-profit national coalition of writers, journalists and grass-roots media outlets.
---
Target Latinos effectively by anticipating changes in the market with
"Hispanic Projections" audio recording

Presenter Roger Selbert, Ph.D.
Find out
About Latino buying power growth in the future
How Latino market growth compares with other markets in the U.S.
What drives the rise of Latino economic clout
Who should target the Latino market
What is the size of the Hispanic affluent market
If the luxury Latino market is growing 
About Hispanics who earn more than $100,000 annually
Click here for details on "Hispanic Projections"
---