Posted by Elena del Valle on July 12, 2007
Joel "El Intruso" Santiago and Epi Colon, hosts, "El Jukeo"
Photo: WSKQ Mega 97.9 FM
Miami, Florida – "El Jukeo" of WSKQ Mega 97.9 FM, a Spanish Broadcasting Systems (SBS) evening four-hour radio show, reaches more than 600,000 Spanish language listeners aged 21 to 39 in New York City. Hosted by Joel "El Intruso" Santiago and Epi Colon, "El Jukeo" derives its name from an invented word in Puerto Rican slang which means to get hooked. "El Jukeo" receives higher ratings than any of the station's other programs.
According to promotional materials, the made up word "Jukéate," illustrates the producer's desire to attract a large audience with its music and entertainment programming. "El Jukeo," started in September 2006, airs Monday through Friday from 3 pm to 7 pm.
Prior to joining the New York station, Santiago worked at La Mega 106.9 FM in Puerto Rico, the sister station for La Mega 97.9 FM. He also worked for an English language music radio station.
"Joel was born and raised in New York. He knows the New York market," said Jackie Torres, director of Marketing and Promotions for Mega 97.9 FM. "Epi also has an impressive background and worked for La Mega for two years before joining 'El Jukeo.' After those two years, he returned to Puerto Rico, but came back to La Mega for a chance to work with Joel. These two bright radio personalities have an incredible chemistry that allows them to work well together and attract a great audience."
Colon began his career in radio in 1987 at WPAB 550 in Puerto Rico. He started at WPAB as promotions producer for station programs. After a few months, Colon was on the air as a DJ for Coqui FM Power 93, known then as "The Fat Rocker."
In New York, he collaborated on the show "Vacilón de la Mañana" with Luis Jiménez on Mega 97.9 before returning to Puerto Rico as producer for "El Bayú" and "La Buya" for Mega 98.1 in Orlando. In January 2001, he returned to New York to co-host "La Buya" on 105.9 Latino Mix. A year later, Colon returned to Puerto Rico to work on "A To' Fuete" on Salsoul with Luisa de Los Ríos, before returning to New York City.
Santiago began his career in 1996 with Sonocolor 97.7 FM in Puerto Rico. He continued to host in radio shows in Puerto Rico on stations Cosmos 94.7 FM, from 1997-2000, and Mega 106.9 FM. 
In 2002, he made his acting debut in "Todo sobre mi pene" filmed in Puerto Rico. Two years later, he made an appearance in the Telemundo film "Encuentros." That same year, Santiago started his career in television with Univision's "Anda Pal Cará" in Puerto Rico. In 2005, he made another movie with Telemundo titled "La caja de problemas."
---
"Latino Media and Hispanic Media Training" audio recording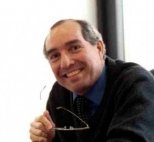 Presenters Federico Suverbi, Ph.D. and Elena del Valle, MBA
Find out
• About the hundreds of Latino media
• Who are the major Hispanic media
• Type of media outlets they represent
• Languages in which they are produced
• Programming and content they offer
• Hispanic media geographic reach
• Hispanic media challenges
 Click here to purchase "Latino Media and Hispanic Media Training"
---