Posted by Elena del Valle on July 9, 2007
Fernando Rodríguez, CEO, Terra Networks USA
Photo: Terra Networks USA
A podcast featuring an interview with Fernando Rodríguez, chief executive officer, Terra Networks USA is available in the Podcast Section of Hispanic Marketing & Public Relations, HispanicMPR.com. During the podcast, he discusses The Current State and Future of User-Generated Content, a Portal Perspective: What Terra Networks is Doing to Encourage Online Dialogue and Why with Elena del Valle, host of the HispanicMPR.com podcast.
Fernando joined Terra Networks USA in 2000 as chief financial officer and a founding member of the team that launched Terra.com. In 2004, he took on the position of CEO. Now he oversees the operations of Terra Networks in the United States.
He has dedicated his time to growing the organization and consolidating Terra Networks USA's position in the U.S. Hispanic market. Prior to joining Terra Networks USA, Fernando worked at the Telefonica Group, a telecommunication company. He held various financial positions at the Telefonica de España corporate headquarters. During those years he led a team that worked with McKinsey and Company in analyzing the performance and valuation of several Telefonica global business units, from mobile and fixed telephony to Internet access and corporate business solutions.
Fernando began his career working for the Madrid Chamber of Commerce in Mexico City as a foreign trade expert. He holds a Masters of Business Administration from the Universidad Autónoma de Madrid, and several other executives programs including the Harvard Business School. He lives in Miami with his wife and his two year old son
Terra headquarters are in Miami. Terra Networks USA is a division of Terra Latin America, a wholly owned subsidiary of the Telefonica Group, and one of the largest Internet companies in Latin America, reaching over 40 million unique visitors monthly.
To listen to the interview, scroll down until you see the "Podcast" on the right hand side, then select "HMPR Fernando Rodríguez" click on the play button below or download it to your iPod or MP3 player to listen on the go, in your car or at home. To download it, click on the arrow of the recording you wish to copy and save to disk. The podcast will remain listed in the July 2007 section of the podcast archive.
---
Reach Hispanics online today with
"Marketing to Hispanics Online" audio recording
Identifying and characterizing the booming Hispanic online market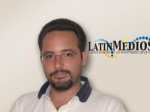 Joel Bary, Alex Carvallo and Matias Perel
Find out about
• The 16 million Latino online users
• Latino online users by gender
• What they do online
• Their language preferences
• How to reach Hispanic urban youth online
• What affects their online behavior
• What influences their purchases
Click here to purchase "Marketing to Hispanics Online"
---
Click the button to hear the podcast:
---