Posted by Elena del Valle on July 3, 2007
Hispanic Enterprise magazine cover June/July 2007
Photo: PageOne Media
Beginning with the June/July 2007 issue Hispanic Trends magazine is changing its name to Hispanic Enterprise magazine. Editorial Televisa executives decided to take the official plunge following positive responses from a trial run of the April/May 2007 issue with the name Enterprise. The magazine had been published under the name Hispanic Trends since 2002.
"We were going to wait until 2008, but we could not ignore the great feedback we received from readers to the new name. We have received more letters to our editor than for any previous issue and more new subscribers are calling in signing up for the magazine," said Mariano M. Faget, publisher of Hispanic Enterprise.
Hispanic Enterprise magazine will continue publishing six times a year. The magazine has a circulation of 125,000. Billed as the "only magazine targeting Hispanic entrepreneurs," its editorial focus is on tips to grow and manage businesses. The magazine also features success stories, follows the progress of corporations diversifying and getting involved in the Hispanic market and examines Latino culture from a business perspective. Hispanic Enterprise plans to continue its two annual events, the Hispana Leadership Summit and Best in Business Awards.
"Back in 2002 when the magazine started, Hispanic entrepreneurs starting their own businesses were a growing trend. Today, with over 2 million of them and over 120 billion in annual revenues, it's no longer about the if but the how. We believe the new name will more accurately reflect the editorial content and direction of the magazine," said Carlos Alfaro, editor of Hispanic Enterprise magazine. "We will continue to serve the needs of our readers by providing beginners with ideas and inspiration, current business owners with tools for managing and growing their companies, lessons from the most experienced professionals in business and advice and courage for those seeking a second chance."
Hispanic Enterprise, supported by a partnership with the United States Hispanic Chamber of Commerce (USHCC), is owned by Editorial Televisa, a Hispanic publishing company. The magazine is produced for Editorial Televisa by Page One Media. Mexico based Editorial Televisa is a division of Grupo Televisa, one of the largest Spanish-language media companies in the world.
---
"Latino Media and Hispanic Media Training" audio recording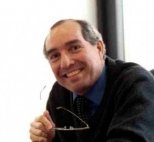 Presenters Federico Suverbi, Ph.D. and Elena del Valle, MBA
Find out
• About the hundreds of Latino media
• Who are the major Hispanic media
• Type of media outlets they represent
• Languages in which they are produced
• Programming and content they offer
• Hispanic media geographic reach
• Hispanic media challenges
 Click here to purchase "Latino Media and Hispanic Media Training"
---