Posted by Elena del Valle on June 25, 2007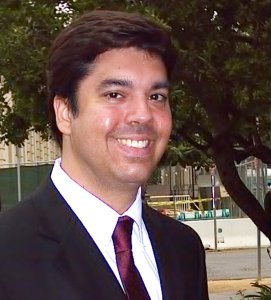 Ernesto Caravantes, author, Clipping Their Own Wings
Photos: Ernesto Caravantes
A podcast interview with Ernesto Caravantes, author, Clipping Their Own Wings is available in the Podcast Section of Hispanic Marketing & Public Relations, HispanicMPR.com. During the podcast, Ernesto discusses his book with Elena del Valle, host of the HispanicMPR.com podcast. 
Ernesto Caravantes is a native Angeleno who grew up in Lakewood, California. He was the only son of Mexican immigrant parents who instilled a deep sense of wonder and pride in his Mexican roots and had a profound impact on the choices and accomplishments in his life. They emphasized the value of education in the United States for those who want the best life possible, even the American Dream.
As a boy he visited the meat markets of Los Angeles and saw firsthand how beleaguered and unassimilated the Hispanic population had become in California. Latino immigrants were living in Los Angeles as if they had never left their native country. They remained poor, uneducated, and laboring at menial low-wage jobs with a stubborn resistance to learn English.
Ernesto's parents were bilingual and spoke Spanish at home until he reached the second grade. His teacher told his parents, "Teach this boy English or go back to Mexico."  As a result his parents began a long crusade of English immersion. Although his early struggles to learn English as a first-grader along with subsequent remedial English classes, challenged his confidence they fueled a determination to succeed. As an adult, he expanded his skills, completing a Masters' Degree in Counseling from the University of La Verne, hosting an educational cable television show, and becoming committed to lifelong learning. 
---
Buy your copy of Ernesto Caravante's Clipping Their Own Wings
Click here to purchase Clipping Their Own Wings 
---
In Clipping Their Own Wings The Incompatibility between Latino Culture and American Education, Caravantes describes how the Latino culture itself is the culprit for Hispanic underachievement in the United States. He explains how Hispanics can advance themselves in society, without necessarily having to give up the beauty, spirit and lyricism that have given so much richness to Latin American culture.
To listen to the interview, scroll down until you see "Podcast" on the right hand side, then select "HMPR Ernesto Caravantes," click on the play button below or download the MP3 file to your iPod or MP3 player to listen on the go, in your car or at home. To download it, click on the arrow of the recording you wish to copy and save it to disk. The podcast will remain listed in the June 2007 section of the podcast archive.
Click the button to hear the podcast:
---
Target Latinos effectively by anticipating changes in the market with
"Hispanic Projections" audio recording

Presenter Roger Selbert, Ph.D.
Find out
About Latino buying power growth in the future
How Latino market growth compares with other markets in the U.S.
What drives the rise of Latino economic clout
Who should target the Latino market
What is the size of the Hispanic affluent market
If the luxury Latino market is growing 
About Hispanics who earn more than $100,000 annually
Click here for details on "Hispanic Projections"
---