Posted by Elena del Valle on June 18, 2007
Search Engine Strategies Latino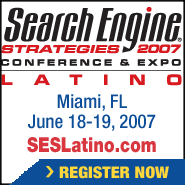 June 18-19 | Intercontinental Hotel, Miami, Florida
Register by Friday, June 1 and save $100.
Exclusive Hispanic MPR subscriber offer: Save an additional 10% off when you use priority code 10HMPR.
Search Engine Strategies Latino is a 2 day, multi-track conference that specifically addresses search engine advertising (SEM/SEO). This event features presentations and panel discussions from industry experts including representatives from the search engines themselves; interactive and in-depth sessions & workshops; and an exclusive look at the latest search trends & developments. This is our 2nd annual conference and remains the only event dedicated to search and its place within the corporate marketing mix. En Español | Em Português
For more information visit us at http://www.seslatino.com/.