Posted by Elena del Valle on June 15, 2007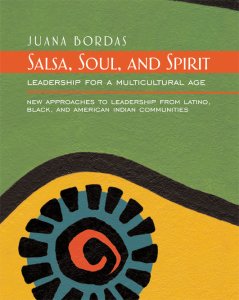 Salsa, Soul and Spirit book cover
Photo: Berrett-Koehler
Juana Bordas, president, Mestiza Leadership International, has made a career out of leading and coaching future leaders. In her first book, Salsa, Soul, and Spirit: Leadership for a Multicultural Age (Berrett-Koehler Publishers, $17.95), a May 2007 title, she shares insights on multicultural leadership gained from interviews with national multicultural leaders and her career long experience.
In the 226-page paperback book, she describes eight core leadership principles she feels are common to Latino, African-American and American Indian cultures. She also discusses how incorporating these principles into mainstream leadership efforts will result in more effective and inclusive strategies than those commonly adopted. In addition to interviews with national multicultural leaders, the book includes historical background and the author's reflections.
"The purpose of Salsa, Soul, and Spirit is two-fold. First to integrate the wisdom and experience of Latino, Black and American Indian communities into a new and more inclusive form of leadership for our country that is more suited to our multicultural age and global village," said Bordas. "Second to find the common ground in the way communities of color exercise leadership which will cultivate a great unity and ability for them to work together more effectively."
In the book, Bordas shares the insights gained from interviews with 11 American Indian, African American and Latino leaders. The American Indian leaders are Ada Deer, John Echohawk, LaDonna Harris, and Benny Shendo, Jr. The African American leaders are James Joseph, Ph.D., Lea Williams, Ed.D and Andrew Young.
The Latino leaders Anna Escobedo Cabral, Treasurer of the United States; Antonia Pantoja, Ph.D., Puerto Rican Civil Right Movement activist; Federico Peña, managing director, Vestar Capitol Partners; and Raul Yzaguirre, former president of the National Council of La Raza.
A Colorado resident and former U.S. Peach Corps volunteer, Bordas is a founder of Mi Casa Women's Center and was the first president and chief executive officer of the National Hispana Leadership Institute. Bordas is a former faculty member of the Center for Creative Leadership, an international executive leadership program. She was initiated into the Colorado Women's Hall of Fame and was recognized by the U.S. Peace Corps with the Franklin Miller Award for her dedication to advancing communities of color.
---
Click here to purchase Salsa, Soul, and Spirit 
---