Posted by Elena del Valle on June 8, 2007
Observatory Series-1
Photos: Jazmin Ferrari and Angela María Ortíz S.
Jazmin Ferrari and Angela María Ortíz S. were curators for the recently opened "Cityscapes, Landscapes & In Between: A Black & White Photography Show" at jFerrari Gallery in Atwater Village, California. The show, which will remain open until July 2, 2007, showcases the work of 10 photographers.
In addition to the curators, the photographers exhibiting are: Ali Farhoodi, Domenico Foschi, Cynthia Frederick, Nathan French, Gerrad Holtz, Walt Jones, Gordon Ownby, and Kristina Schulte-Eversum. There will be 34 photos on exhibit.
Ferrari, a novice photographer and painter, was born in Buenos Aires, Argentina, where she was exposed to a blend of cultures under her father's powerful influence. A photographer, he inspired her to be unique and have fun with the camera. As a girl, she remembers being more interested in photography, but as an adult her focus turned towards painting.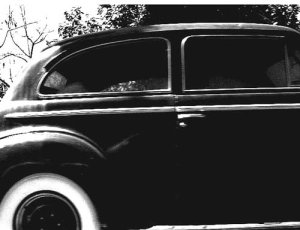 Untitled
"Photography and painting go hand-in-hand for me, photographs and paintings usually work within the same confines of two-dimensionality and stillness," said Ferrari. "Understanding a sense of the picture plane of a painting helps in organizing photographic space, and vice-versa. Photography is as adept in depicting the subliminal mind, as is painting. They are both equally essential to me."
"Los Angeles and its surrounding area is my muse," said Ortiz S. "I have been a freelance art director/graphic artist most of my adult life. I decided about seven years back to concentrate on my photography and at this point, I think I've made the right decision. I think my career is moving forward and I'm not looking back. As a Latina artist or just being a woman artist, I do think we have to work harder. Here in Los Angeles, they are so many artists trying to get collectors to see their work. I'm a Latina photographer trying to get my name out there on my own. It's a challenge, but when someone says, 'I like your work', that's a big reward for me."
Ortíz S. was born in Colon, Panama, where she spent the first ten years of her life. She was inspired by her roots and the city she lives in, Los Angeles.
---
Hispanic Marketing and Public Relations Understanding and Targeting America's Largest Minority book

"A must resource for practitioners/professionals expecting to reach US Hispanics; also valuable for college programs in marketing, public relations and communications. Highly recommended."
 Choice magazine
Click here for more information and to buy your copy today!
---