Posted by Elena del Valle on June 6, 2007
Mitch Golub, president, Cars.com
Photo: Cars.com
Miami, Florida—Terra.com, and Cars.com have teamed up to reach Spanish dominant Latino online consumers. As part of the effort, Cars.com's complete inventory of more than two million new and used vehicles will appear on Terra's automotive channel. The two companies hope to attract U.S. Hispanics who prefer to surf the web in Spanish with car related content, tools and services; and provide advertising options for marketers looking to tap into the coveted Hispanic segment. Terra will also feature Cars.com's private-party listing service, Sell It Yourself.
"Earlier this year, we launched our Spanish-language site, allowing our visitors to search for used cars in Spanish", said Mitch Golub, president, Cars.com. "In working with Terra.com we are building on our strategy to meet the needs of Spanish-speaking car shoppers."
The companies believe the Internet offers buyers freedom to search and browse at their own convenience and customize information to fit their needs. In making their Spanish language marketing decision they relied on a recent Synovate survey indicating that more than two-thirds of Hispanic Americans they surveyed identify the Internet as the best resource for making purchase decisions. According to Terra.com, 60 percent of its visitors are online daily and 84 percent rate the Internet as the best media source for automotive information.
Fernando Rodriguez, chief executive officer, Terra Networks USA
"Through our partnership with Cars.com, Terra's visitors can readily search millions of new- and used-car listings and access robust, easy-to-use tools that help them research, locate and purchase the vehicle they want," said Fernando Rodriguez, chief executive officer, Terra Networks USA.
Terra Networks is a global Internet group with a presence in the U.S. and Latin America. The group operates websites in the United States, Spain and Latin America. Terra.com is the U.S. Hispanic arm of the Terra Networks group, providing a portal and services to Spanish speaking users.
Cars.com is partnered with more than 200 metro newspapers, television stations and their websites, and advertises vehicles on behalf of 13,000 dealers, classified advertisers and private parties. The company website offers inventory search tools and new car configuration with pricing information, photo galleries, buying guides, comparison tools, original editorial content and reviews.
---
Reach Hispanics online today with
"Marketing to Hispanics Online" audio recording
Identifying and characterizing the booming Hispanic online market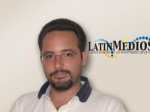 Joel Bary, Alex Carvallo and Matias Perel
Find out about
• The 16 million Latino online users
• Latino online users by gender
• What they do online
• Their language preferences
• How to reach Hispanic urban youth online
• What affects their online behavior
• What influences their purchases
Click here to purchase a recording on marketing to Hispanics online
---