Posted by Elena del Valle on June 1, 2007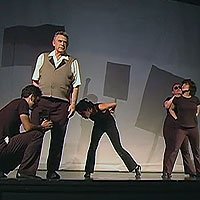 "Carlos Baron" performance
Photo: Haiku Films
San Francisco, California  — California film producer and director Mabel Valdiviezo recently screened "Carlos Baron," her latest production, on Spark, a KQED and PBS television show about Bay Area artists in San Francisco. The Spanish language film includes English subtitles.
In the 14-minute film, Carlos Baron, described as a Bay Area multicultural theatre evangelist, guides viewers on road trip to Chile to explore love and exile through the poetry of Pablo Neruda after the death of Augusto Pinochet, Chile's former president . Shadow theatre, music and dance, are said to run a powerful link between Baron's life and the Nobel poet that inspires his work.
Baron's play, "Poeta Pan" or "Bread Poet" traces his Chilean roots through the poetry of Neruda. A collaboration with Latin jazz flutist John Calloway, Rafael Manriquez and choreographer Martha Zepeda, calls up comparisons between September 11, 2001 and the Pinochet coup d'etat that occurred 28 years earlier on the same date.
"The first day of production was a pivotal moment in the film. Carlos called me a few hours before the shoot to tell me that Pinochet had died that very morning. Everybody, including myself, was in an altered state when I started filming with my crew the run through rehearsal just before Carlos and his troupe headed to Chile," said Valdiviezo.
"Why Neruda? It's beautiful poetry; accessible and a voice of reason and peace in the midst of war atmosphere that exists today," said Barón. "I want the audience to take away a sense of hope, the sense of collaboration that took place here, the sense that it is possible to do things in lean times.
Produced by Mabel Valdiviezo, "Carlos Baron" is a joint project of Spark and KQED. Valdiviezo is the founder of San Francisco based production company Haiku Films. Her short feature film, "Soledad Is Gone Forever," was accepted to the Short Film Corner Cannes International Film Market in May 2007. Spark is a magazine TV Show that airs on KQED, a Public Broadcasting System television station.
---
"Emotional Branding: How to capture the heart and mind of the Hispanic consumer" audio recording


"Emotional Branding" was recorded January 2007 during the Strategic Research Institute 13th Annual Blockbuster Marketing to U.S. Hispanic and Latin America conference in Miami, Florida.
Receive a free downloadable copy by completing our Visitor Survey.
---