Posted by Elena del Valle on May 23, 2007
Carlos Alberto Montaner, host, "Pronósticos"
Photo: Mega TV
Miami, Florida – WSBS-Mega TV Channel 22 launched "Pronósticos," a six episode program, hosted by Carlos Alberto Montaner, offering viewers a detailed analysis of significant social and political events in South Florida and Latin America. The most recent episode, "Cuba in the Year 2027," aired May 20, 2007 at 9 p.m. and the last program is scheduled to for November 18, 2007. 
During the program, Montaner, a well-known Hispanic journalist and political analyst, discusses developing social and geopolitical trends and their potential impact on world events. According to promotional materials, over six million readers in Latin America, Spain and the United States read his weekly columns.
During the most recent program, Montaner and guests Emilio Estefan, Benjamin Leon, Nicolas Quintana, Jorge Pinion, Domingo Moreira, Jorge Dávila, Ariel Gutiérrez, Pedro Baldriche and Amelia Cachaldora examined the issues they expect will impact Cuba for the next 20 years. The common fear among the group is that Cuba is experiencing a rapid decline in its staple sectors of tourism, sugar and alcohol, while unable to sustain the growth of the construction and entertainment industries.
Montaner was born in Havana, Cuba, in 1943 and has resided in Madrid, Spain since 1970. He has published more than twenty books. Several of his books have been translated into English, Portuguese, Russian, and Italian. Some of his most well-known and reedited works are, Viaje al Corazon de Cuba (Journey into the Heart of Cuba); ¿Como y por què desapareció el comunismo? (How and Why Communism Disappeared); and Libertad: la Clave de la Prosperidad (Freedom: The Key to Prosperity).
He also wrote Manual del Perfecto Idiota Latinoamericano (Manual of the Perfect Latin American Idiot) and Fabricantes de Miseria (Fabricators of Misery) in collaboration with Plinio Apuleyo Mendoza and Alvaro Vargas-Llosa. In 2006, his latest book, Los Cubanos: Historia de Cuba en una Llección was published.
Spanish Broadcasting System, Inc. is one of the largest publicly traded Hispanic-controlled media and entertainment companies in the United States. SBS owns and operates 20 radio stations located in Hispanic markets such as New York, Los Angeles, Miami, Chicago, San Francisco and Puerto Rico. The Company also owns and operates Mega TV in Miami.
---
"Search Engine Marketing to Hispanics" audio recording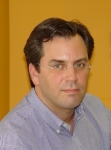 Presenter Matias Perel, founder and president, Latin3
Find out about
The 16 million Latino online users
Types of online access among Hispanics
Latino online user language preferences
What they do online
Usage by age
Income levels among Hispanics who visit the Internet
Internet use by Hispanics
Click here to purchase a recording about search engine marketing to Hispanics  
---