Posted by Elena del Valle on May 16, 2007
Mario Quiñones
Photo: Mario Quiñones
New York, New York – Latin Pulse recently released Latin Pulse Internet Research, a new methodology for quantitatively testing Internet marketing initiatives in Spanish in consumer products, financial services, retail and automobile campaigns. The new Internet research service is designed for marketers who want to quickly test a few ideas at a low overall cost, while obtaining results beyond those offered by traditional focus groups. Costs range between $7,000 to test a few issues and $25,000 for a comprehensive test.
The new system, touted for its projectable data, is similar to the Latin Pulse computer based testing and analysis at central locations, except the data collection methodology uses a national, representative panel of U.S. Hispanic consumers and the results are retrieved over the Internet instead of on-site. Projectable data is obtained with a statistical representative sample of the population.
Company researchers believe respondents' opinions can be projected to the entire population with a very high degree of certainty equivalent to 90 percent. When Latin Pulse tests an ad among a Hispanic sample, their staff believe the results of the ad test will be similar in approximately 90 percent of Hispanics with similar characteristics to those in the sample.
"Researching U.S. Hispanic consumers cost effectively with projectable sample sizes has always been a major challenge for U.S. companies," said Mario Quiñones, president, Latin Pulse. "Many tend to use focus groups instead because they are viewed as less expensive than traditional quantitative testing, although these qualitative results can be misleading and actual costs of repeated sessions often become excessive. Reaching and testing Hispanic consumers on the Internet has been a particular problem because of relatively low online incidence and difficulties of ensuring a representative sample. However, we have found the right panel to ensure sufficient Hispanic online users, while continuing to use our unique computer controlled methodology."
The results can be delivered within six to ten days, depending on the complexity and specifics of the sample. According to a company spokesperson, Latin Pulse Internet Research offers a robust data base which reflects the real marketplace; it is quantitative and projectable; and relies on a representative national panel of Hispanic consumers with varied levels of acculturation.
"The big advantage of the Latin Pulse model for Internet testing among U.S. Hispanics is that a marketer can quickly get reliable test results on select ideas which would be projectable, validated by Latin Pulse norms, and usually less expensive than two to three focus group sessions," said Jay Gronlund, vice president, U.S. managing director, Latin Pulse USA. 
Latin Pulse is strategic market research firm headquartered in Mexico City. The company is affiliated with AcuPoll from Cincinnati, and has been using its proprietary research technology for new product concepts, advertising copy and other marketing opportunities in Latin America and the U.S. Hispanic market since 2000.
---
Reach Hispanics online today with
"Marketing to Hispanics Online" audio recording
Identifying and characterizing the booming Hispanic online market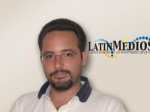 Joel Bary, Alex Carvallo and Matias Perel
Find out about
• The 16 million Latino online users
• Latino online users by gender
• What they do online
• Their language preferences
• How to reach Hispanic urban youth online
• What affects their online behavior
• What influences their purchases
Click here to purchase an audio recording about marketing to Hispanics online
---