Posted by Elena del Valle on May 10, 2007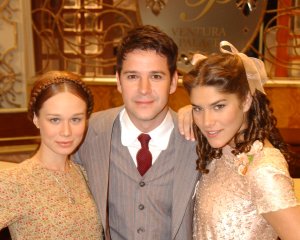 Mariana Ximenes, Murilo Benicio and Priscila Fantin
Photo: Spanish Broadcasting System
Miami, Florida – In late April 2007, WSBS-Mega TV Channel 22 began airing the Brazilian romantic novela series "Chocolate con Pimienta" (Chocolate with Pepper), acquired from television distributor TV Globo and dubbed into Spanish from the Portuguese original. It has been airing in Brazil since 2003. The 170-episode series will air in Miami Monday through Friday, from 6 p.m. to 7 p.m. until December 2007.
"Chocolate con Pimienta is a fiery romantic melodrama that we believe will be a huge hit in Miami, a market known for its exotic tastes and spicy Latin flavor," said Cynthia Hudson Fernández, chief creative officer and executive vice president, SBS. "TV Globo distributes television content to 130 countries around the world, and 'Chocolate con Pimienta' is one of the company's most talked about series in recent times. The show has resonated extremely well with Latin audiences in several international markets, and South Floridians should prepare themselves for a compelling joyride of TV melodrama that includes a little bit of pepper and a lot of chocolate!"
The series takes place in the 1920s. Scenes showcase Art Deco, Coco Chanel, á la garçonne and the Maxixe (Brazilian tango). The show's story recounts the saga of Ana Francisca, played by actress Mariana Ximenes. Ana endured a difficult life growing up. As she grew older, the challenges she met along the way strengthened her resolve, turning her into a strong and confident woman in charge of her own destiny. The only void in her life was "the memory of lost love."
The story unfolds over a seven year period, beginning in 1922 when gangsters from the south kill Ana's father. From there she moves to the city of Ventura, a town dependent on its famous chocolate factory for survival. Ana moves to Ventura with her grandmother Carmen (Laura Cardoso), uncle Margarido (Osmar Prado), cousins Timóteo (Marcello Novaes) and Marcia (Drica Moraes), and a so-called friend, Dália (Carla Daniel). To help her new family, Ana starts working for Ludovico Canto e Mello (Ary Fontoura), the owner of the infamous chocolate factory. The plot soon thickens as Ana's love life heats up.
---
Reach Latinos consumers with electronic publicity tools with
"Electronic Publicity and Broadcast Public Relations" audio recording

David Henry presenter
Broadcast publicity expert David Henry shares insights drawn from years of experience to help you target Latinos effectively during this presentation and interview.
Find out
to reach Latinos with electronic publicity

 how many U.S. TV stations offer news programming in Spanish

 which markets have the number one newscasts in Spanish

 which markets offer bilingual news TV programming

 and much more
 Click here to purchase an audio presentation on Electronic Publicity and Broadcast Public Relations by David Henry
---