Posted by Elena del Valle on May 8, 2007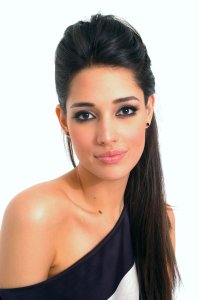 "Suegras" host Amelia Vega
Photo: Azteca America
Former Miss Universe (2003) Amelia Vega, hosts "Suegras," an Azteca America reality show in which 12 women, six "ready to marry" men and their mothers share living space. Suegra means mother in law in Spanish. In the last episode, the winner may ask one of three remaining mothers for her son's hand in marriage.
Viewers can watch program clips and participant interviews on the show's website. They are invited to vote via short message service (SMS) and at Terra.com. "Suegras" is scheduled to air Monday to Friday at 10 pm CST for 10-weeks. The last episode will air May 20, 2007.
"Amelia was selected for her exceptional talent, and we expect her national stature and Dominican heritage to serve as a bridge to all Hispanic audiences, especially given the spectacular participants, who represent a broad array of Hispanic American cultures," said Bob Turner, president, Network Sales, Azteca America.
Participants' heritage is diverse with representatives from Cuba, Colombia, Mexico, Puerto Rico, Uruguay and Venezuela. According to promotional materials, weekly challenges for the men and women, as well as the potential mother in law participants, reveal motives, habits, and possible conflicts.
Azteca America is a wholly-owned subsidiary of TV Azteca S.A. de C.V, one of the largest producers of Spanish language television content in the U.S.
---
"Latino Family Dynamics" audio recording


 Brenda Hurley and Liria Barbosa
Find out
Latino purchasing habits and products they favor
Latino family characteristics
Latinos and extended families
Division of duties, responsibilities within the family
Who is decision maker in the Latino family
Who is information provider in the Latino family
Click here to purchase a recording on Latino Family Dynamics 
---