Posted by Elena del Valle on May 7, 2007
"The Chicas Project" cover
Photos: Nacional Records
Nacional Records will release the official soundtrack to the popular mun2 reality show "The Chicas Project," starring mun2 hosts Yasmin and Crash, May 8, 2007. The soundtrack includes Grammy-nominated artists Aterciopelados, Nortec Collective and Andrea Echeverri, as well as Los Bunkers, The Pinker Tones, Pacha Massive, Sara Valenzuela, Bitman & Roban, Cuarto Poder, and Mexican Institute of Sound. iTunes and eMusic digital editions of "The Chicas Project" soundtrack feature two bonus tracks.
Barcelona duo The Pinker Tones provide the show's theme song with the high-energy, political parody "Karma Hunters." The Pinker Tones recently made an appearance at SXSW and are scheduled to be at KCRW's Sounds Eclectic Evening in Los Angeles, California.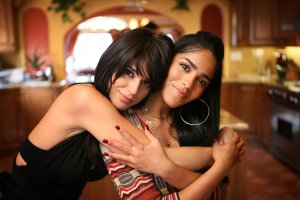 "The Chicas Project" Crash and Jasmin
"The Chicas Project" Official Soundtrack also features previously unreleased remixes from Grammy-nominated Aterciopelados and Mexican singer Sara Valenzuela, as well as new artists like Venezuela's Cuarto Poder with "Arenita Playita" and Mexican rockers Porter.    
 
"The Chicas Project" airs nationally on NBC/Telemundo's bilingual youth network mun2. In the show Crash, a west coast rocker, and Yasmin, an urban-flavored youth from New York, take viewers on comedic adventures. The show, in pre-production for its second season, airs Saturdays at 2 pm.  
---
Hear from market researchers about the Latino family in
"Latino Family Dynamics" audio recording


 Brenda Hurley and Liria Barbosa
Find out
Latino family characteristics
Latinos and extended families
Division of duties, responsibilities within the family
Who is decision maker in the Latino family
Who is information provider in the Latino family
Click here to purchase a recording  on Latino Family Dynamics 
---
To listen to the single "Karma Hunters" from the new "The Chicas Project" album click on the play button below.
Click the button to hear the podcast:
Click here to sponsor a HispanicMPR.com podcast
---