Posted by Elena del Valle on April 26, 2007
2007 Voz Latina Marketing to Hispanic Conference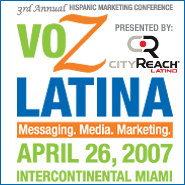 April 26, 2007 Intercontinental Miami
Now in its 3rd year, Voz Latina is the definitive Hispanic marketing conference hosted by Adweek's Marketing y Medios, Adweek, Brandweek and Mediaweek in conjunction with the Billboard Latin Music Awards. Presentations cover online and multi-channel marketing strategies, branded entertainment, celebrity endorsements and creating ads, plus a Hispanic consumer panel, exclusive research and much more. The Hispanic Best Spots of the Year Awards will be announced at the Voz Latina Luncheon, and the first 100 registered attendees receive a complimentary all-access pass to the Billboard Latin Music Awards and pre/post VIP parties. It's a week of learning, networking and celebrating you simply cannot miss! Speakers include:
Jacqueline Hernandez-Fallous, Publisher, People en Español
Lucia Ballas-Traynor, SVP, General Manager, MTV Tr3s
Gonzalo Perez, Director, Multicultural Research and Consumer Insights, MTV Networks
Felipe Korzenny, Ph.D., Professor and Director of the Center for Hispanic Marketing Communication, Florida State University, and Cheskin Co-Founder
Sergio Alcocer, President / Chief Creative Officer, LatinWorks
Thomas Schimoler, Creative Director, The Vidal Partnership
Carlos Tornell, Creative Director, OLE
Marcus Owenby, Director, Marketing, Cingular Wireless
Doug Darfield, Senior Vice President, Hispanic Services, Nielsen Media Research
Anne Howard, Director of Online Services, La Agencia de Orcí
Greg Cunningham, Group Marketing Manager, Target
* * * Special Discount for HispanicMPR.com subscribers * * *
We have negotiated a special rate for HispanicMPR.com subscribers who want to attend the Voz Latina conference. Simply enter promo code MPR599 when you register and you will save $200 off the registration fee!
Visit http://www.marketingtohispanics.com/ or
Call 646 654 5170 or 646 654 5170