Posted by Elena del Valle on April 20, 2007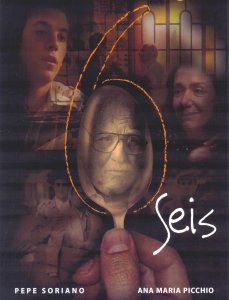 "Holocausto 6"
Photo: WSBS
Miami, Florida – WSBS Mega TV Channel 22, television personality Maria Elvira Salazar, Miami Dade Community College, and the city of Miami Cultural Fridays initiative, will host a free screening of "Holocausto 6," the first part of a two-part film in Spanish, at 7 pm, Friday, April 27, 2007 at the Tower Theater in Miami, Florida. The second part of the film will be broadcast on the Mega TV show "Raíces y Recuerdos" at 9 pm May 27, 2007. 
Inspired by true events, "Holocausto 6" is described in promotional materials as a documentary film with fiction and non-fiction elements. The film's producers blended testimonies of Holocaust survivors and information from historical documents to address one of the most tragic crimes against humanity. 
The main character, Federico, is a Jewish man born in Poland. He is an Auschwitz survivor living in Buenos Aires, Argentina, with his family. Federico, played by Argentinean actor, Pepe Soriano, is concerned that people, especially young adults, are forgetting the legacy of the Shoah and how hate and bigotry can easily spread.
In the movie, Gabriel, Federico's 21-year-old grandson, has grown up listening to stories about the Holocaust, but has shown little interest or appreciation of its historical significance, or of his family's experience during this painful event. To ensure that Gabriel, played by newcomer Juan D'Andre, gains a true understanding of these issues, Federico plans a journey, with the help of Gabriel's mother, played by Ana Maria Piccio.
Their journey takes them through six Latin American countries, as Federico gathers documents and pictures to publish a book about the holocaust, and begins searching for five of his friends who left Poland after Auschwitz to start a new life. Each country, Uruguay, Argentina, Chile, Bolivia, and Cuba, represents an important step in Federico's journey.
Spanish Broadcasting System, Inc. is one of the largest publicly traded Hispanic-controlled media and entertainment companies in the United States. SBS owns and operates 20 radio stations located in Hispanic markets such as New York, Los Angeles, Miami, Chicago, San Francisco and Puerto Rico. The Company also owns and operates Mega TV in Miami.
---
Hispanic Marketing and Public Relations Understanding and Targeting America's Largest Minority book

"A must resource for practitioners/professionals expecting to reach US Hispanics; also valuable for college programs in marketing, public relations and communications. Highly recommended."
 Choice magazine
Click here for more information and to buy your copy today!
---