Posted by Elena del Valle on April 17, 2007
Luis J. Echarte, chairman, Azteca America 
Photo:  Azteca America
Los Angeles, California – In 2006, according to a Bigresearch study reported on eMarketer, 65 of adults and 74 of teens in the U.S went online while watching TV. Hoping to draw online and TV audiences, Azteca America and Terra Networks have joined to create a co-branded Internet site powered by Terra.com and showcasing Azteca America content via online video. Through the new alliance the companies hope to reach Spanish dominant Latinos who go online while watching television.
The organizers plan to encourage audience interactivity in real time through polls, live chats, and community pages. Site access is via Aztecamerica.com and Aztecaamerica.terra.com.
"This venture is the marriage of two leading players in Hispanic media, and we are excited about synergies going forward," said Luis J. Echarte, chairman of Azteca America. "Aside from the proven portal management experience, clients have the best of both broadband and broadcast worlds to maximize their brands."
Under the agreement, Terra Networks will be responsible for hosting and editing content with the collaboration of Azteca America. In addition to displaying TV Azteca's extensive content, the site is supposed to feature exclusive U.S. Hispanic content including headline video reports from "Noticiero Azteca America," Azteca's daily news program.
The new website is expected to have special in-depth features and video clips from "Suegras," a new Azteca America reality series. Promoters hope the show, coupled with visitor's online interaction, will drive additional users to the portal.  Online sales for the site will be handled by Terra Networks with coordination for television sales with Azteca America.
 
"Now is the ideal time to leverage the online TV multitasking space, with the majority of U.S. households on broadband," said Fernando Rodriguez, chief executive officer of Terra Networks. "Terra Networks and Azteca America are delighted to step up to the challenge to create both a compelling user experience for our combined, tech savvy audiences and exciting interactive opportunities for advertisers, such as live chat sponsorships occurring during the TV shows."
Azteca America is a wholly-owned subsidiary of TV Azteca S.A. de C.V, one of the largest producers of Spanish language television content in the U.S. Terra.com, the U.S. Hispanic arm of the Terra Networks group, provides a portal and services to Spanish speaking users.
---
Reach Hispanics online today with
"Marketing to Hispanics Online" audio recording
Identifying and characterizing the booming Hispanic online market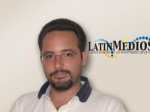 Joel Bary, Alex Carvallo and Matias Perel
Click here to purchase an audio recording with a presentation on marketing to Hispanics online by Joel Bary and interviews with Joel Bary, Alex Carvallo and Matias Perel
---