Posted by Elena del Valle on April 4, 2007
Spanish artist Bebe performs in Central Park at LAMC 2005
Photo: LAMC 
The Latin Alternative Music Conference, LAMC, described by promoters as the "biggest event in the world for cutting edge Latin music," will take place July 10 – 14, 2007 in New York City. Organizers promise 30 to 50 artists, free concerts, film nights at the Central Park Summerstage and Celebrate Brooklyn Festival at Prospect Park, industry panels and artist showcases.  Last year's LAMC drew more than 1,250 industry representatives and 25,000 concert goers.
"It is my pleasure to welcome the Latin Alternative Music Conference back to New York City," said Michael Bloomberg, mayor, New York. "Events like the LAMC are a boon to our economy, bringing visitors to the City and generating jobs, and I would like to thank the Latin Media & Entertainment Commission for attracting the conference back to the Big Apple. With our diverse and vibrant Latino population, there is no better place to hold Latin events than in Nueva York. As they say in Spanish, que empiece la fiesta."
The four-day conference is designed to provide attendees networking opportunities with the genre's leading artists, label executives, journalists, marketers, managers, retailers and programmers. Admission costs $199 for early bird registrations and $299 for walk ins.
---
"Search Engine Marketing to Hispanics" audio recording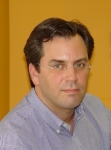 Presenter Matias Perel, founder and president, Latin3
Find out about
The 16 million Latino online users
Types of online access among Hispanics
Latino online user language preferences
What they do online
Usage by age
Income levels among Hispanics who visit the Internet
Internet use by Hispanics
Click here to purchase a recording about search engine marketing to Hispanics  
---