Posted by Elena del Valle on March 30, 2007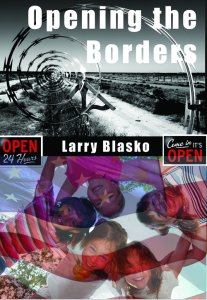 Opening the Borders book cover
Photo: Level 4 Press
About the only agreement in the vitriolic illegal immigration debate is that it's one of America's thorniest hot-button issues and will play a pivotal role in the 2008 presidential election. Politicians are tap-dancing around the topic and offering few practical solutions. Is there a logical and humane answer that benefits the United States and Mexico? Journalist Larry Blasko dives head-first into this raging controversy with a new 211-page hardcover book, Opening the Borders: Solving the Mexico/U.S. Immigration Problem For Our Sake and Mexico's (Level 4 Press, $24.95). 
 
Research indicates there are between 10 and 12 million illegal Mexican immigrants in the United States. That enrages some Americans who feel their tax dollars are supporting illegal immigrants. Other Americans champion anyone's right to find jobs and build better lives for their families. 
"You have one side shouting 'Deport Them!' and the other side shouting 'Love Them!'" said Blasko. "But the reality is hand-wringing and finger-pointing solve nothing. A logical solution could be implemented by now with all the energy both sides have expended screaming for extreme measures."
 
According to promotional materials, in Opening the Borders Blasko outlines the early, rocky relationship between the U.S. and Mexico. He then hones in on the immigration issue today, and reminds readers that America was founded by immigrants. 
By illustrating the impact illegal Mexican immigrants have on the U.S. economy, Blasko makes a case for hammering out an agreement between U.S. and Mexican leaders that would benefit both nations. He points to a speech by New York City Mayor Michael Bloomberg detailing the crucial role immigrant workers play in that city's economy. 
Opening the Borders takes a close look at the argument that illegal immigrants are stealing jobs from law abiding Americans. "Let's be realistic for just a minute," said Blasko. "Sure, you can say that these low-paying jobs have been proliferated by illegal immigrants, but ask yourself, are there really millions of Americans lining up for these jobs?" 
 
Blasko served for more than three decades with The Associated Press as writer, editor, columnist and executive. He is the author of two other books, ABCs of Computing, a Plain-English Guide, and Vamp!
---
Hispanic Marketing and Public Relations Understanding and Targeting America's Largest Minority book

"A must resource for practitioners/professionals expecting to reach US Hispanics; also valuable for college programs in marketing, public relations and communications. Highly recommended."
 Choice magazine
Click here for more information and to buy your copy today!
---