Posted by Elena del Valle on March 27, 2007
Latino Internet Usage
Click on image to enlarge
According to the findings of a recent survey, Latino access to the Internet is linked to English proficiency, educational level and country of origin. Latinos Online, a report by Susannah Fox of the Pew Internet & American Life Project and Gretchen Livingston of the Pew Hispanic Center, indicates Internet usage varies widely among Hispanics depending on language proficiency, educational level and country of origin.
The researchers' findings indicate only 56 percent of Latino adults visit the Internet; while 71 percent of non-Hispanic whites and 60 percent of non-Hispanic blacks go online. Fox and Livingston believe socio-economic factors such as low educational levels and language limitations play a role in the lower Internet access of this large minority which represents 14 percent of the U.S. market.
The report is based on telephone surveys of 6,016 Hispanic adults between June 2005 and October 2006; and 2,098 non-Hispanic adults in August 2006. Latino respondents had an option to respond in English, Spanish or a combination of both languages.
The report revealed that more than two thirds of English dominant (78 percent) and bilingual Latinos (76 percent) use the Internet while only 32 percent of Spanish dominant adults do so. A significant number of U.S. born Latinos (76 percent) go online while less than half (43 percent) of foreign born Latinos visit the Internet.
Educated Latinos are more likely to go online than uneducated ones. More than two thirds of Latinos with a degree are likely to go online (89 percent). At the same time, 70 percent of Latinos who graduated high school go online but only 31 percent of Latinos who did not complete high school go online. Although Internet access among uneducated non-Hispanic whites and blacks is also low, the percentage of Latinos without a high school degree (41 percent) is noticeably higher than it is for non-Hispanic whites (10 percent) or blacks (20 percent).
Although Mexicans are the largest group of Latinos in the U.S., they are, according to the study, less likely to visit the Internet than other Latinos. Only 52 percent of Hispanics of Mexican descent use the Internet. At the same time, 58 percent of those of Central American origin, 59 percent of Dominican extraction Latinos, 66 percent of Puerto Rican and 64 percent of Latinos of Cuban descent go online. Seventy percent of Hispanics of South American origin go online, making them the most likely Hispanics to surf the Internet.
Latinos also access the Internet by cell phone. More than half of Latino adults (59 percent) have a cell phone and almost half (49 percent) of Latino cell phone users say they send and receive text messages on their phones. On the flip side, a quarter of Hispanic adults have no cell phone or Internet connection.
The Pew Internet & American Life Project and the Pew Hispanic Center are non profit initiatives of the Pew Research Center.  The mission of the Pew Hispanic Center is to improve understanding of the Hispanic population and chronicle their impact on the country. The Pew Internet & American Life Project looks at the social impact of the Internet.
---
"Search Engine Marketing to Hispanics" audio recording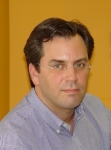 Presenter Matias Perel, founder and president, Latin3
Find out about
The 16 million Latino online users
Types of online access among Hispanics
Latino online user language preferences
What they do online
Usage by age
Income levels among Hispanics who visit the Internet
Internet use by Hispanics
Click here to purchase a recording about search engine marketing to Hispanics  
---