Posted by Elena del Valle on March 26, 2007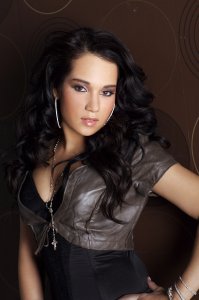 Singer Lumidee
Photo: TVT Records
At 19, Puerto Rican, Spanish Harlem rapper and singer Lumidee, scored a hit with her debut single "Never Leave You (Uh Oooh, Uh Oooh)." Now, after a brief hiatus, she will launch a new album, "Unexpected," in the U.S. April 17, 2007.
In 2003, her song soared to the top of the charts, reaching the third slot on Billboard's Hot 100. Described as having "sweet vocals, catchy hook, infectious Diawli dancehall rhythm, and clap-heavy backdrop," "Never Leave You" made it to the number one spot in Germany and topped the pan-European charts in the summer of 2003.
 
Lumidee is now signed to TVT Records through Mach 1 Records and preparing for the release of her second album. Her new single "She's Like the Wind," already entered the Pop 100 charts featuring R&B singer and Terror Squad member Tony Sunshine. The song remakes the same-named Patrick Swayze cut of "Dirty Dancing" fame.
The idea behind redoing the classic tune came from Lumidee's European label, and she was intrigued by the possibilities. When asked to suggest a male vocalist to collaborate with her, she recommended Tony Sunshine. After hearing Tony's vocal presence on the track, Lumidee was inspired to write some flirtatious, uptempo rap lyrics to give the song a stronger urban feel. Although Lumidee was confident about the song she never considered it as a single. To her surprise, it became the album's lead single, and is quickly climbing up the charts.
"People will be surprised by what I am bringing to this project," said Lumidee. "It incorporates so many flavors, rap, R&B, Caribbean music, all the sounds that influence me. I feel confident about this album because I really get to show the public more of what I'm all about."
Lumidee's sophomore effort includes appearances by several artists such as Shaggy, who she worked with on the reggae-tinged "Feel Like Making Love;" Harlem-bred rapper Jim Jones, who brings his gruff voice and street swagger to "I'm Up;" Pitbull, who brings some of his energetic, rapid-fire flow to "Krazy," which was produced by Lenky; and reggaeton and rap star N.O.R.E. on "You Got Me."
Lumidee is no stranger to adversity. Her father passed away in 1995 and her mother spent most of Lumidee's childhood in prison, leaving Lumidee and her siblings to be raised by their grandparents. Lumidee was forced to slow down when, at 14, she was diagnosed with rheumatoid arthritis, a chronic autoimmune disorder that can cause inflammation of the joints and the surrounding tissue. Due to a misdiagnosis (doctors originally said she had lupus and prescribed the wrong medications), by the time her real illness was detected, her condition had become dire.
In some ways Lumidee's condition may have been a blessing in disguise, forcing her to concentrate on her writing. Despite the obstacles, she persevered and, with the right treatment, defied doctors' expectations, returning to school to complete her final year and maintaining a rigorous recording schedule. In 2002, before the release of her debut, she underwent hip replacement surgery.  After the procedure she was able to dance and perform.
---
"Latino Family Dynamics" audio recording


 Brenda Hurley and Liria Barbosa
Click here to purchase a downloadable or CD audio recording with extended information on Latino Family Dynamics by Brenda Hurley and Liria Barbosa
---
To listen to the single "She's Like the Wind" from the new "Unexpected" album click on the play button below.
Click the button to hear the podcast: