Posted by Elena del Valle on March 19, 2007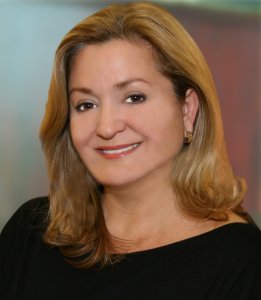 Cynthia Hudson Fernández, executive vice president and chief creative officer, Spanish Broadcasting System
Photo: Spanish Broadcasting System
A podcast interview with Cynthia Hudson Fernández, executive vice president and chief creative officer, Spanish Broadcasting System is available in the Podcast Section of Hispanic Marketing & Public Relations, HispanicMPR.com. During the podcast, she discusses Mega TV and the Spanish language television station's branding and marketing strategies with Elena del Valle, host of the HispanicMPR.com podcast. 
Cynthia was recently named SBS' chief creative officer and executive vice president, reporting directly to chairman and CEO Raúl Alarcón.  In her new position, she is responsible for SBS' expansion into Television and new media, directly overseeing TV station MEGA TV – channel 22 in Miami, as well as the Company's internet site LaMusica.com and other new media development. Cynthia is in charge of the strategic expansion of SBS content across multiple media platforms as well as development of branded entertainment synergies among the SBS portfolio of media assets.   
From 1997 to 2005 Cynthia served as senior vice president and editorial director of Cosmopolitan Television a division of Hearst Entertainment and Syndication Group, heading up the creation and development of the Cosmopolitan TV Networks. While there she led the research, development and creation of Cosmo TV, overseeing design of original programs, on-air packaging, promotions and program acquisitions, as well as the creation and production of original formats.
Prior to Cosmo TV, Cynthia was senior vice president of Programming and Creative Services for United International Holding's joint venture channel service, United Family Communications (UFC), now MGM Networks Latin America. While at UFC, she created Casa Club TV, one of the first pan-regional home channels for Latin America.
Cynthia has a Master's degree in Communications from the University of Miami focusing on the acculturation and media consumption of the immigrant population in the United States.
To listen to the interview, scroll down until you see "Podcast" on the right hand side, then select "HMPR Cynthia Hudson Fernández," click on the play button below or download the MP3 file to your iPod or MP3 player to listen on the go, in your car or at home. To download it, click on the arrow of the recording you wish to copy and save to disk. The podcast will remain listed in the March 2007 section of the podcast archive. 

Click the button to hear the podcast:
Click here to sponsor a HispanicMPR.com podcast
---
Hispanic Marketing and Public Relations Understanding and Targeting America's Largest Minority book

"A must resource for practitioners/professionals expecting to reach US Hispanics; also valuable for college programs in marketing, public relations and communications. Highly recommended."
 Choice magazine
Click here for more information and to buy your copy today!
---