Posted by Elena del Valle on March 16, 2007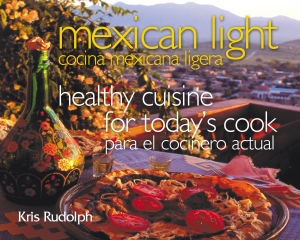 Mexican Light:Healthy Cuisine for Today's Cook book cover
Photo: University of North Texas Press
A recently released cookbook, Mexican Light: Healthy Cuisine for Today's Cook, focuses on preColumbian low in fat and high in fiber and vitamins diets of Mexico. The paperback book by Kris Rudolph was published by University of North Texas Press late last year and retails for $17.95. The recipes and text are included in Spanish on facing pages.
Rudolph is a native of Houston and owner of the restaurant El Buen Café in San Miguel de Allende, Mexico, where she lives. She also offers culinary tours and teaches Mexican cooking classes, as well as a dancing and cooking workshop called "Salsa and Salsa."
According to promotional materials, before the arrival of Columbus the people of Mexico ate corn, squash, tomatoes, beans, and lean meats and had a diet close to the recommendations for healthy eating of today. 
The book opens with a short introduction outlining the history of Mexican cooking, followed by an overview of healthy eating habits, a description of the most common ingredients, and a guide to planning for parties. Fifty recipes cover a number of topics such as appetizers and after-dinner refreshers including: Lime and Cilantro Soup, Shrimp Ceviche Salad, Chicken Poblano, Pork Loin with Mango-Chipolte Salsa, Mexican Beef Tips, and Fish Veracruz Style.
Each recipe also includes the number of calories, amounts of total fat and saturated fat, grams of carbohydrates, and amount of fiber. Rudolph suggests low-fat and low-carbohydrate alternatives, as well as ways to vary the spiciness.
---
"Latino Family Dynamics" audio recording


 Brenda Hurley and Liria Barbosa
Click here to purchase a downloadable or CD audio recording with extended information on Latino Family Dynamics by Brenda Hurley and Liria Barbosa
---