Posted by Elena del Valle on March 14, 2007
Latin rocker Ceci Bastida and East Los Angeles' Quetzal
Photos: peermusic
Los Angeles, California – Peermusic will expand its presence at this year's SXSW Music Festival in Austin, Texas. Four of the ten acts peermusic will showcase during the week of March 14-18, are Latino oriented performers Charanga Cakewalk, Upground, Ceci Bastida, and Quetzal. They will all perform at Spiro's on Saturday March 17. Other peermusic showcases, open to all registered SXSW attendees, will include performances by Donovan, Robert Shields, The Tragically Hip, The Shys, The Procession, and Ox.
Charanga Cakewalk will perform at 9 pm. Charanga Cakewalk's music is described as a melding of tejano, flamenco folklorico, merengue, garage, ska and reggaeton.
Young band Upground recently inked a deal with peermusic after winning the Sprint Battle of the Bands in 2006. The band's music is a "hybrid sound of cumbia, reggae, swing, and ska." Upground will perform at 10 pm.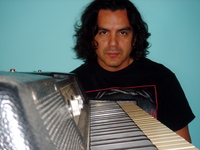 Charanga Cakewalk
Ceci Bastida, one of the first women to rise in the ranks of Latin rock, with stints in Mexican ska-punk band Tijuana NO and with alterna-pop-rocker Julieta Venegas, will perform at at 8 pm. Bastida recently recorded demos with producer Jason Roberts (Control Machete, Plastilina Mosh), Grammy-nominated guitarist-songwriter Marthin Chan (Volumen Cero, JD Natasha) and Grammy-winning bassist Wil-Dog Abers of Ozomatli.
East Los Angeles' Quetzal's musical tapestries are described as varied and rich in their sounds, colors and messages.  Spearheaded by a "fiercely independent spirit," the group recently released its fourth CD, "Die Cowboy Die," and will perform at 12 am.
The four-day South by Southwest Music and Media Conference features hundreds of music acts from the U.S. and abroad in 50 stages across Austin, Texas. In conjunction with the musical performances participants also attend music related discussions and presentations from hundreds of speakers. 
 
Founded by Ralph S. Peer in 1928, peermusic is a global network of music publishing companies operating from 35 offices in 27 countries. With well over a quarter of a million titles in the company's catalogue, and songs that vary from country, blues, jazz and pop to Latin, concert  and rock 'n' roll, peermusic is one of the largest privately owned companies of its kind in the world.
---
"Hispanic Projections" audio recording

Presenter Roger Selbert, Ph.D.
Click here to learn more and to purchase a downloadable or CD audio recording with a presentation by Roger Selbert, Ph.D. on "Hispanic Projections" 
---