Posted by Elena del Valle on March 9, 2007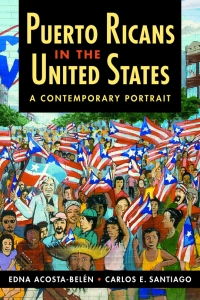 Puerto Ricans in the United States book cover
Photo: Lynne Rienner Publishers
Academics Edna Acosta Belén and Carlos E. Santiago focus on the trajectory and status of Puerto Ricans in the United States in the 272-page Puerto Ricans in the United States: A Contemporary Portraitbook (Lynne Rienner Publishers, $22.50). Choice magazine selected Puerto Ricans in the United States a 2006 Choice Outstanding Academic Title. Outstanding Academic Titles are chosen for their excellence in scholarship and presentation, the significance of their contribution to the field, and the important treatment of their subject.
The book is divided into eight chapters: Introduction: Portrait of a Commuter Nation; The Colonial Experience; Migrations Before World War II; Postwar Migration Patterns; A Demographic Portrait; Social and Civil Rights Struggles; Voices and Images of the Diaspora; and Overcoming the Colonial Experience: Future Challenges. It includes 28 graphics and 19 black and white illustrations. The cover designed is a reproduction from the mural "Sea of Flags" by Gamaliel Ramírez and Eren Star Padilla in Chicago.
Edna Acosta-Belén is Distinguished Professor of Latin American, Caribbean, and women's studies at the University at Albany, SUNY, where she is also director of the Center for Latino, Latin American, and Caribbean Studies. She serves as coeditor of the Latino(a) Research Review, which she founded with Carlos Santiago. Carlos E. Santiago is chancellor of the University of Wisconsin-Milwaukee and professor in the university's Department of Economics. He has published extensively on the Puerto Rican diaspora.
---
"Latino Identity and Situational Latinidad " audio recording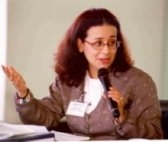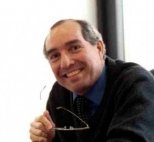 Presenters Diana Rios and Ph.D., Federico Subervi, Ph.D.
 Click here to purchase a downloadable or CD audio recording with presentations on Latino identity by Diana Rios, Ph.D. and Federico Subervi, Ph.D. and a bonus interview with the professors
---