Posted by Elena del Valle on March 5, 2007
RBD, winner of Premios Terra a Lo Mejor de la Música Latina 2006
Photo: Terra
Coral Gables, Florida – Music enthusiasts selected Latino pop group RBD winner of Terra.com's Premios Terra a Lo Mejor de la Música Latina 2006, beating out performers such as Shakira, Thalia and Juanes. Terra.com launched Premios Terra a Lo Mejor de la Música Latina to provide its visitors an online conduit to choose their favorite performer or group from some of the year's most popular Latino entertainers. RBD received 41,902 votes in the 2006 online competition which drew close to 100,000 votes.
According to Wikipedia, the Mexican group RBD was formed relatively recently as part of a teen high school band within the Spanish-language telenovela "Rebelde" which aired from October 2004 through June 2006. The group has soared in popularity, producing five top-selling, Spanish language CDs. This year's favorite on Terra.com hopes to conquer English speaking audiences with Rebels, the group's recent crossover debut album. Other artists who received high percentages of online votes include David Bisbal and Ricky Martin.
"Terra.com's Music Channel has always been very popular due to in depth coverage and exclusive interviews with top entertainers. We are delighted to see such a high number of votes, and congratulate RBD. RBD is a relative newcomer in comparison to other candidates, yet our audience is fully aware of their talent and potential. This is a story in itself," said Fernando Rodriguez, chief executive officer of Terra Networks.
Terra.com executives believe the selection of RBD as the 2006 winner is a reflection of the increase in audience feedback among Hispanic youth. And, that the six figure vote count from Terra's three year old contest, is an indication of how subsequent generations of Internet users may embrace new media. The contest was established by Monica Godoy, Terra.com's Music Channel editor.
Voting for the 2007 winner is under way. The portal is set to welcome music fans seeking information about the competition, the contestants and winner, 2006 highlights and how vote for music performers or bands for 2007.
Terra Networks is a global Internet group with a presence in the U.S. and Latin America. The group operates websites in the United States, Spain and Latin America. Terra.com is the U.S. Hispanic arm of the Terra Networks group, providing a portal and services to Spanish speaking users.
---
Reach Hispanics online today with
"Marketing to Hispanics Online" audio recording
Identifying and characterizing the booming Hispanic online market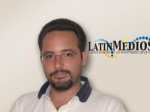 Joel Bary, Alex Carvallo and Matias Perel
Click here to purchase a recording with a presentation on marketing to Hispanics online by Joel Bary and interviews with Joel Bary, Alex Carvallo and Matias Perel
---
To listen to "Nuestro Amor," a single from RBD's album "Nuestro Amor," scroll down until you see "Podcast" on the right hand side, then select "HMPR RBD Nuestro Amor," click on the play button below or download it to your iPod or MP3 player to listen on the go, in your car or at home. To download it, click on the arrow of the recording you wish to copy and save to disk. The podcast will remain listed in the March 2007 section of the podcast archive.  
Click the button to hear the podcast: