Posted by Elena del Valle on February 12, 2007
Innovations in Hispanic Marketing 2007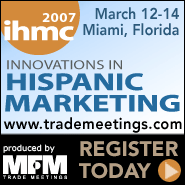 March 12-14, 2007, Coconut Grove, FL, Ritz-Carlton Coconut Grove
Building on the success of the Innovations in Hispanic Marketing series, MFM Trade Meetings will again present this breakthrough conference, March 12-14, 2007, at the Ritz-Carlton Coconut Grove, located in Coconut Grove, FL.
The Innovations in Hispanic Marketing Conference continues to be the most recognized and most valuable event available to today's Hispanic Marketing executive. Over the years the event has delivered timely and innovative information that provides an actual blueprint for success which can be implemented in day to day operations and campaigns. From product placement and traditional advertising, to online strategies and new research data, the 2007 Innovations in Hispanic Marketing Conference will touch on the most relevant and current topics that continuously face marketers.
Subscribers to HispanicMPR.com will receive a 15% discount off the full conference price.
For more information, please call +1(305) 667.4705 (toll-free 1(866) 636.7350), visit http://www.trademeetings.com/ or e-mail ihmc@trademeetings.com
See you in Coconut Grove!