Posted by Elena del Valle on February 9, 2007
Cosmopolitan en español February 2007 cover
Photo: Cosmopolitan en español
Coral Gables, Florida – Launched in the U.S. in 1973, Cosmopolitan en español is turning over a new page by partnering with Spanish-language Internet portal Terra Networks. Together they hope to create an interactive magnet for the lucrative 18-34 Hispanic women demographic. This partnership comes after a year of planning and exploring magazine coupled with online advertising campaigns among several of the Editorial Televisa publications. As a result, Terra Networks was selected to provide an online destination for Cosmopolitan en español.
Organizers hope to boost the number of readers accessing the magazine online via the Mujer (Woman) channel on Terra.com or directly through the magazine's website. Plans include RSS feeds from the monthly print edition, frequent updates and Internet-only services including pertinent market research. Organizers hope special sweepstakes, promotions and reader survey polls will also generate traffic to the website.
"Terra's Mujer audience and Cosmopolitan en español's readers share numerous characteristics," said Fernando Rodriguez, CEO of Terra Networks. "They are young, independent, fun-loving women. We plan to engage them with dynamic content, entertain them with videos and photo galleries, and guide them to form new or join pre-existing social networking communities."
Dynamic Logic research from November 2006 indicates 39 percent of Terra's Mujer audience is college educated and 63 percent of these visitors are online at least once per day.
"We are so excited about this partnership," said Marinos Duarte, publisher, Cosmopolitan en español. "To know that we will be able to stretch our events and programs beyond the print medium and grow them via a portal such as Terra Networks definitely makes for a successful partnership.  I am confident that the Cosmo woman will be pleased with everything we are offering her in 2007."
According to promotional materials, Cosmopolitan en español readers are loyal and love the magazine. They spend an average of almost one hour and a half with the magazine and read it an average of 4.8 times; and 61 percent of readers reportedly saved all or some of the last issue they read.
The Cosmopolitan en español Readership Study, conducted by Simmons Custom Research September 2006, indicates the magazine readers' age is about 33. They are highly educated. About 61 percent attended or graduated from college. They are more than twice as likely as the average Hispanic to have purchased items on the Internet in last 12 months.
Cosmopolitan en español is a monthly magazine published as part of a joint venture with The Hearst Corporation.  Terra Networks is a global Internet group with a presence in the U.S. and Latin America. Terra.com is the U.S. Hispanic arm of the Terra Networks group.
Editorial Televisa is a division of Grupo Televisa, one of the largest Spanish-language media companies in the world. The company publishes 75 titles distributed in 19 countries throughout the Western Hemisphere with an approximate paid circulation, according to promotional materials, of 8.2 million issues and a reach of 58 million readers. Some of the company's leading magazines are: Cosmopolitan en español, Vanidades, Hispanic Magazine, Hispanic Trends, Poder USA, National Geographic en Español, Tu Dinero, ESPN Deportes La Revista, and Maxim en Español.
---
Reach Hispanics online today with
"Marketing to Hispanics Online" audio recording
Identifying and characterizing the booming Hispanic online market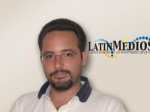 Joel Bary, Alex Carvallo and Matias Perel
Click here to purchase an audio recording with a presentation on marketing to Hispanics online by Joel Bary and interviews with Joel Bary, Alex Carvallo and Matias Perel
---