Posted by Elena del Valle on February 8, 2007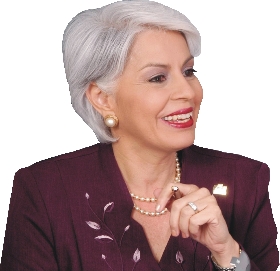 Lourdes Aponte-Rosario, president, HBWA and publisher of Latinamarketplace.com
Photo: Lourdes Aponte-Rosario
San Juan, Puerto Rico – The Hispanic Business Women's Alliance (HBWA) launched a new, interactive online directory of Latina business owners and professionals at Latinamarketplace.com. For a $25 annual fee, Hispanic women in the United States, Puerto Rico, and the U.S. Virgin Islands can be added to the 279 listings. The directory, which features listings in English and Spanish, is designed to help Internet shoppers find and do business with Latina business owners and professionals.
"According to the latest U.S. Bureau of the Census report (2002), there are 540,909 Latina owned businesses in the United States and another 111,287 Latina businesses jointly owned with a male partner. All are excellent prospects to be registered in this new Directory," said Lourdes Aponte-Rosario, president of HBWA and publisher of the online directory.
Researchers believe that Latinas represent the fastest growing entrepreneurial sector in the U. S. business community. According to the Center for Women's Business Research's 2004 biennial update, firms owned by women of color are growing at six times the rate of all U.S. The publishers of the directory expect their organization's collaborative efforts with local Hispanic chambers of commerce and Latina organizations to boost the number of listings on the website.
"Until now, most Latina entrepreneurs and professionals listed in the directory did not have a presence in the Internet. Latina owned start-ups will now have the opportunity to market their products or services via the Internet in an easily accessible and attractive format," said Aponte-Rosario.
The directory allows Internet shoppers to quickly locate Latina owned firms by business category based on the North American Industry Classification System (NAICS Code), product/service key word, company name, street address, city, state, and zip code. In addition, shoppers can find the Latina business via a map locator.
Aponte-Rosario also anticipates that non-Hispanic business owners seeking to penetrate the rapidly growing U.S. Hispanic market will utilize the new online directory to identify potential Latina suppliers, clients or strategic partners.
---
   19 national experts share useful information on how to reach Hispanics effectively in
Hispanic Marketing and Public Relations Understanding and Targeting America's Largest Minority book

Click here to see the table of contents and to buy your copy today!
---