Posted by Elena del Valle on January 29, 2007
Mezklah is Angel Garcia and Greg Herhandez
Photos: Mezklah

Los Angeles' alternative-Latin band Mezklah will make its first official appearance at the South By Southwest SXSW Festival and Conference in March in Austin, Texas. The band's name, Mezklah, is pronounced similarly to the word for mix in Spanish.
"Being asked to play at SXSW is a stroke of luck," said vocalist, Angel Garcia. "Our first year at the festival is going to be a crazy trip for us."
Mezklah consists of Garcia's vocals and Greg Hernandez' sonic guitar. The two combine their rhythm with drum-n'-bass, cumbia, trip-hop and afro-Cuban beats to create a distinctive style of music.
---
"Latino Family Dynamics" audio recording


 Brenda Hurley and Liria Barbosa
These two experts will help you make your Latino family campaign a success. Find out about reaching Latino families, adapting general market messages when targeting Latinos, adapting products and services when targeting Latinos and much more.
Click here to purchase a downloadable or CD audio recording with extended information on Latino Family Dynamics by Brenda Hurley and Liria Barbosa
---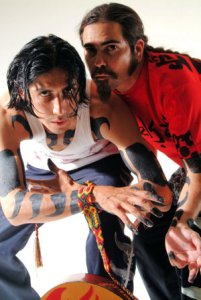 Band members hand-paint tribal illustrations over their bodies before every show
Their debut, SpiderMonkey, is described in promotional materials as breaking the rules of language and song structure. A video for their single, "Chango Araña" is in the final stages. But don't call Mezklah a typical Chicano rock band. It's that kind of pigeonholing that Garcia and Hernandez hope to avoid.
"It's not that I'm not proud of my heritage because I am. It's just that once that happens, it creates a void," said Garcia. "Our music is not just a Hispanic thing -it's about people, about human beings."
In the past few years, Mezklah has toured Europe and America, collecting fans along the way. Among them was musician Ry Cooder who asked the group to record a track for a future compilation covering diverse Los Angeles musical genres. Another well known fan is KCRW's Nic Harcourt, who picked the band from hundreds of CDs to feature on his show, "Morning Becomes Eclectic."
"Whether you're playing for five or 500 people, being a performer is like going to church," said Hernandez. "You have to give it 100 percent of your heart and soul."
Mezklah's live performance exhibits the band's innovative musical flair and the member's visually artistic side. Garcia draws upon global cultures and rituals to hand-paint tribal illustrations all over the duo's bodies before every show. To listen to the single "Chango Araña" from the new Mezklah album "SpiderMonkey" click on the play button below.
Click the button to hear the podcast: