Posted by Elena del Valle on January 24, 2007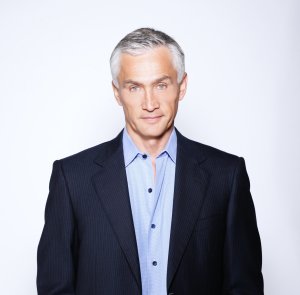 Jorge Ramos
Photo:  RadioCadena Univision Network
Miami, Florida — Univision Television Network News co-anchor Jorge Ramos will join RadioCadena Univision as an exclusive news analyst and commentator January 2007. Univision Radio, a division of Univision Communications Inc. (NYSE:UVN), is a leading Spanish-language radio broadcaster in the United States.
The network plans to featured the Emmy-award winning co-anchor of "Noticiero Univision" (Univision News) in daily news capsules throughout RadioCadena Univision's programming. Promotional materials promise Ramos will deliver analysis of world news and current events to listeners nationwide.
"We are honored to have Jorge Ramos, one of Hispanic America's most respected journalists, form part of RadioCadena Univision," said Gary Stone, president and chief operating officer, Univision Radio. "His keen observations will be an extraordinary complement to RadioCadena's exceptional syndicated programming."
"I am excited to use this medium to provide listeners with news commentaries on relevant national and international developments, what's happening in the United States and their countries of origin," said Ramos.
---
Reach Latinos consumers with electronic publicity tools with
"Electronic Publicity and Broadcast Public Relations" audio recording

David Henry presenter
Broadcast publicity expert David Henry shares insights drawn from years of experience to help you target Latinos effectively during this presentation and interview. Find out how: to reach Latinos with electronic publicity; how many TV stations offer news programming in Spanish in the U.S.; which markets have the number one newscasts in Spanish; which markets offer bilingual news TV programming; and much more.
 Click hereto purchase a downloadable or CD audio recording with a presentation on Electronic Publicity and Broadcast Public Relations by David Henry
---
A recipient of eight Emmy awards for excellence in journalism, Jorge Ramos is celebrating his 20 anniversary with "Noticiero Univision" this year. Ramos is described as one of the most successful and influential anchors on U.S. broadcast television. Time Magazine named Ramos one of the 25 most influential Hispanics in America. He has been awarded the Maria Moors Cabot Award by Columbia University and was the recipient of the 2003 David Brinkley Award for journalistic excellence. He is also a syndicated columnist for more than 40 newspapers in the U.S. and Latin America. He has also authored seven best selling books.       
RadioCadena Univision has 11 AM stations across the United States. It syndicates national news and talk programming to Univision's AM stations and other Spanish-language stations not owned by Univision.
Univision Communications Inc. is a United States Spanish-language media company. Its operations include Univision Network, TeleFutura Network, Galavisión, Univision Television Group, Univision Radio, Univision Music Group, and Univision Online. Univision Communications also has a 50 percent interest in TuTv, a joint venture formed to broadcast Televisa's pay television channels in the U.S., and a non-voting 14.9 percent interest in Entravision Communications Corporation, a public Spanish-language media company. Univision Communications is headquartered in Los Angeles with television network operations in Miami and television and radio stations and sales offices in major cities throughout the United States.