Posted by Elena del Valle on January 12, 2007
A young DJ delivers a home-grown tradition to New York Mexicans, one of the city's hardest-pressed immigrant groups
By Miguel Angel Angeles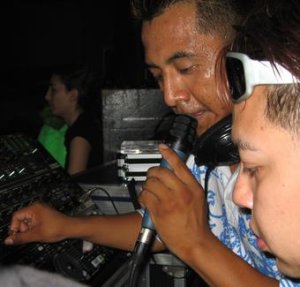 Sonido Kumbala is a revered figure on New York's sonidero scene
Photo: Elizabeth Campos
You can barely hear the lyrics of Julieta Venegas' recent hit "Me Voy," since a deep voice shouting over her number booms from the speakers. Some people stand and watch, as colored lights fall on disco balls spinning over the crowd on the dance floor. But others make their way to the man behind the voice: Alejandro Aviles, aka Sonido Kumbala, a Mexican DJ in New York who has developed a following and a measure of fame.
"He plays our music," said Ramíro Salazar, 18, of the Bronx. "This is a place where we can hang out and dance and forget about everything out there for a while."
Now celebrating his 10th anniversary of performing for crowds of Mexican and Mexican-American youth, Sonido Kumbala, 28, is an important figure in New York City's sonidero scene, an essential part of Mexican youth culture. The practice, which migrated from Mexico City, centers around the sonidero, a type of DJ who, rather than mixing songs on a turntable, sends shoutouts over Colombian cumbia.
Click here to read the complete article
---
"The Next Step: Secondary Latino Markets" audio recording

Presenter Dora O. Tovar, MPA
Click here to purchase a downloadable or CD audio recording with a presentation by Dora O. Tovar on secondary Latino markets
---