Posted by Elena del Valle on January 11, 2007
La Opinion's new classified advertising director, Lynnette M. Canedy
Photo: La Opinion
La Opinión recently hired Lynnette M. Canedy as classified advertising director. Canedy, who has over seventeen years of experience in the media industry in positions in classifieds and advertising management, most recently served as automotive sales manager and director of Key Accounts, Retail Division, for the Orange County Register.
"We are excited to have Lynnette Canedy in our advertising team," said Monica Lozano, chief executive officer and publisher of La Opinión. "Lynnette has a solid background in the media industry and experience in multiple categories including automotive, retail and classified. She will lead our classified team to the next level through print and online initiatives."
Canedy's career also includes five years as publisher for a division of VNU, Inc.; general manager of the Recycler Classified Newspapers, Las Vegas; sales manager for PR Newswire; and sales positions with the Lexington Kentucky Herald Leader Newspaper and the Willoughby Ohio News Herald. She attended the University of Kentucky and graduated with a Bachelor of Arts in Communications/Journalism.
La Opinión is a leading Spanish-language daily newspaper. According to promotional materials it distributes 124,000 copies throughout the five-county Southern California area and reaches over 482,000 readers on a daily basis. La Opinión is owned and operated by ImpreMedia LLC.
---
"Latino Media and Hispanic Media Training" audio recording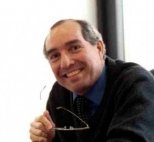 Presenters Federico Suverbi, Ph.D. and Elena del Valle, MBA
Click here to purchase a downloadable or CD audio recording with presentations Hispanic media training by Elena del Valle and on Latino media by Federico Subervi, Ph.D. For more information visit the HispanicMPR.com Resources Section
---