Posted by Elena del Valle on January 8, 2007
Deborah Ramirez, editor, el Sentinel
Photo: The Sun-Sentinel
A podcast interview with Deborah Ramirez, editor, el Sentinel is available in the Podcast Section of Hispanic Marketing & Public Relations, HispanicMPR.com. During the podcast, she discusses the newspaper with Elena del Valle, host of the HispanicMPR.com podcast.
Deborah feels the bicultural and bilingual environment she grew up in helped her develop professionally and as a human being. She was born in New York City. When she was 12 she and her family moved to Puerto Rico to seek opportunities and take care of her grandparents.
In Puerto Rico, she attended the seventh grade in a small rural school, where some of her classmates were the children of sugar cane workers. This experience made her aware of what life is like for others less fortunate than she was. This made her realize how poverty and ignorance can derail a young life, and also how education and opportunities can make a real difference.
---
Hispanic Marketing and Public Relations Understanding and Targeting America's Largest Minority book

This book includes chapters on Latino media, public relations, electronic publicity, and Hispanic media training. 
Click here for more information and to buy your copy today!
---
Deborah graduated from the University of Puerto Rico with a degree in social science. After graduation, she obtained a master's degree in journalism from Columbia University. She began her career in journalism at the San Juan Star, an English-language newspaper in Puerto Rico, where she worked for a decade before moving to South Florida in 1992. At the South Florida Sun-Sentinel, she first worked as a municipal reporter, before covering Cuba and joining the Editorial Board, where she wrote a bimonthly column and learned to share her opinions with readers.
Three years ago, she was chosen to head up el Sentinel, a Spanish-language weekly launched by the Sun-Sentinel, for a growing Hispanic community in Broward and Palm Beach counties.
She believes a newspaper has the responsibility to inform its readers about what's going on, accurately and honestly. At the same time she thinks media also can play a role in shaping opinion and giving a voice to those who have none. el Sentinel has the added role of helping immigrants find their way in a new society.  
To listen to the interview, scroll down until you see "Podcast" on the right hand side, then select "HMPR Deborah Ramirez," click on the play button or download it to your iPod or MP3 player to listen on the go, in your car or at home. You can also subscribe to the podcast by right clicking over the podcast box and selecting "copy shortcut" then inserting the URL address in the podcast section of your iTunes program listed under the "advanced" column. The podcast will remain listed in the January 2007 section of the podcast. 
Click the button to hear the podcast:
Click here to sponsor a HispanicMPR.com podcast
---
"Latino Media and Hispanic Media Training" audio recording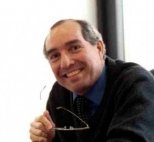 Presenters Federico Suverbi, Ph.D. and Elena del Valle, MBA
Click here to purchase a downloadable or CD audio recording with presentations Hispanic media training by Elena del Valle and on Latino media by Federico Subervi, Ph.D. For more information visit the HispanicMPR.com Resources Section
---