Posted by Elena del Valle on December 22, 2006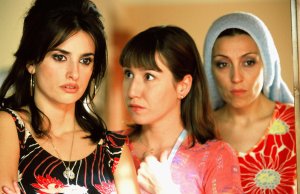 Penélope Cruz as Raimunda and Lola Dueñas as Sole in Pedro Almodovar's "Volver"
Photo: Emilio Pereda and Paola Ardizzoni/El Deseo. Courtesy of Sony Pictures Classics
Sarasota, Florida – Gulf Coast area film buffs will be among the first in Florida to see "Volver," Pedro Almodovar's latest film beginning Friday, December 29. According to representatives of the Sarasota Film Society, the film will premier in Sarasota at the Burns Court Cinemas, weeks before it is slated to open in other Florida cities. Tickets cost $7.75 and $5 for Sarasota Film Society members.
The 121 minute long film from Spain is in Spanish with English subtitles.  Penélope Cruz stars as Raimunda, a blue-collar mother who already has a lot on her plate; a disaffected teenage daughter, a troublesome sister, and a dear friend dying of cancer, among other things, when it appears that her dead mother (played by Carmen Maura) has come back as a ghost seeking some sort of justice.
Such a mad storyline is pure Almodóvar, and according to promotional materials the famous Spanish filmmaker tells it with "effortless humor, generosity and style." The female cast was honored at Cannes for its portrait of three generations of women.
Established in 1983, the Sarasota Film Society endeavors to bring the "best in independent, classic and international cinema" to the community. Its mission is to cultivate an understanding and appreciation of film as an international form of artistic expression.