Posted by Elena del Valle on December 20, 2006
---
2006 Events
---
Multicultural Market Intelligence Summit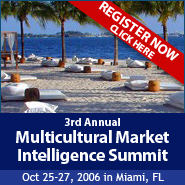 Register Today with Code: HispanicMPR and SAVE $530 off Registration and Lodging
Registration: $1,650 and Lodging: $85/night (Taxes Included)Event: Multicultural Market Intelligence SummitDate: October 25-27, 2006Location: Miami, FLVenue: Mandarin Oriental Hotel (5 Diamond Hotel)Agenda:Brochure:Registration: 1-888-309-2005
Online: http://www.geoscape.com/conference/registration.aspx
Transform Market Intelligence into Intelligent Marketing
Attend the premier conference on capturing diverse customers
Access the most up-to-date and definitive market data for American consumers
Learn best practices from top industry leaders.
Case Studies: Get an executive briefing via case Studies from leading companies such as: Allstate Insurance, Albertsons, Americatel, Comcast, Goodyear, MTV Networks, Nestle and United Healthcare
Play Golf at the Multicultural Masters Invitational at the scenic Biltmore Hotel in Coral Gables
Indulge in 5-Diamond luxury at the Mandarin Oriental Hotel
Live Entertainment featuring Soul singing sensation: Goapele, Latin fusion artist Javier Garcia and Brazilian-jazz singer Rose Max.
Experience priceless interactions with senior level marketing, media and distribution executives from Fortune 1000 companies throughout the nation and internationally: AAA, ACE Hardware, Allstate, AOL, American Express, Amerigroup, Anheuser-Busch, AstraZeneca, AT&T, Avon Products, Bank of America, Bellsouth, Burger King, Blue Cross Blue Shield, Cendant, CAN, CVS, DirecTV, Fannie Mae, Firestone, FOX, Macy's, NBA, New York Life, Nextel, Office Depot, Starbucks, State Farm Insurance, Telemundo NBC, Time Warner Cable, Toyota, Univision, USPS, Verizon, Walgreen, Wells Fargo, Yahoo…
Registration: 1-888-309-2005
Online: http://www.geoscape.com/conference/registration.aspx
---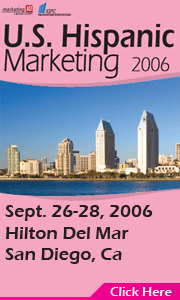 U.S. Hispanic Marketing Conference
September 26-28, Hilton Del Mar, San Diego, CA
Participants at this event will hear innovative marketing approaches from a fresh speaking faculty as well as the latest "success story" case studies and best practices presented by industry trailblazers.
Speaking companies include:
McDonald's Corporation
Houston Astros
Nortel
Ford Motor Company
TodoFut.com
AOL Latino
Harley Davidson
Staples
CitiGroup
and so much more!
Attend this event and you can expect:
– Case-study driven presentations
– Marketing experts from a wide array of industries
– Discussion panels providing a multi-faceted view of the market
– Eight brand new workshops offering an in-depth look into important niche topics
– Priceless networking opportunities with your colleagues dealing with the same issues you are facing
Be sure to register early to receive the best early bird pricing. Please visit http://www.ushispanicmarketing.com/ or call 800-882-8684 for full details.
---
Gold Coast PR Council "How to Reach and Pitch Hispanic Media"
September 19, 2006 Boca Raton, Florida
Carlos Alfaro, editor, Hispanic Trends and Elena del Valle, editor, HispanicMPR.com
This month's lunch meeting of the Gold Coast Public Relations Council will focus on Hispanic media. During the September 19 meeting, the editors of three Hispanic publications and one website will discuss "How to Reach and Pitch Hispanic Media" with public relations professionals at The Atrium in Boca Raton. Editors Elena del Valle of Hispanic Marketing & Public Relations.com, Carlos Alfaro of Hispanic Trends magazine, Em Mendez of La Palma, and Debbie Ramirez of El Sentinel will explain their editorial operations. The cost for lunch is $15 for members and $20 for guests.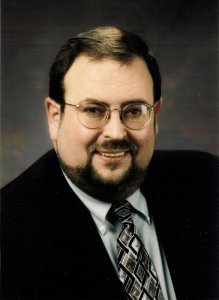 Gary Schweikhart, co-founder and president, Gold Coast PR Council
"Lunch meetings of the Gold Coast PR Council give our members a chance to meet and network with media decision-makers. With the growing influence of Hispanic media in South Florida, this will be a valuable opportunity to find out important information, such as deadlines and the way in which the editors like to receive pitches (by phone or email), even something as important as to whether or not they accept press releases written in English or should we have them translated into Spanish first," said Gary Schweikhart, co-founder and president of the Gold Coast PR Council. "This is really a great opportunity to get one-on-one with some key editors, so the next time one of our PR professionals call the editor of these Hispanic publications, they can say, 'Hey, remember me? I met you at the Gold Coast PR Council lunch, and do I have a great story for you…"
"How to Reach and Pitch Hispanic Media" will be divided into three segments. From 11:30 a.m. to 12 p.m. attendees will have an opportunity to network; from 12 to 12:15 p.m., there will be lunch and organizational announcements; and from 12:15 to 1:15 p.m., there will be a presentation followed by a question and answer session.
The Gold Coast PR Council is an independent group of public relations, marketing and communications professionals from Palm Beach and Broward counties. The Gold Coast PR council holds networking and educational lunch meetings, such as this one, on the third Tuesday of every month. More information is available online at GCPRC.com — Sergio Carmona
September 19, 2006 Boca Raton, Florida