Posted by Elena del Valle on November 29, 2006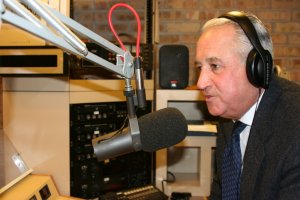 Jose Lamas, host, "Buenos Dias, Chicago – Noticias Al Dia de La Raza"
Photos: Jose Lamas, La Raza
Chicago, Illinois – A Chicago ethnic radio station, WSBC-1240 AM, recently began hosting "Buenos Dias, Chicago – Noticias Al Dia de La Raza," ("Good Morning, Chicago – La Raza's News Today") a morning drive-time newscast. Under a brokering agreement with Access Radio Chicago, Chicago Spanish language media leader, Jose Lamas will be producing and hosting a two and a half hour newscast from 4:30 am through 7 am, Monday through Friday.
"I am pleased that our news program will serve the entire City of Chicago and surrounding suburbs with 1240 AM's powerful Omni-Directional signal," said Lamas. "In addition, our alliance with La Raza newspaper, Chicago's leading Hispanic publication, as a content provider and promotional partner will tremendously enhance our news coverage and enable 'Buenas Días, Chicago' to provide a vital service to Chicago's Hispanic community."
"Buenos Días, Chicago – Noticias Al Día de La Raza" includes local, national and international news mainly provided by La Raza newspaper, with live segments from Miami with journalist Rafael Orizondo. The newscast also offers analysis of immigration issues with attorney Connie Lara during a daily segment, 'Linea Abierta.'
"What's most ironic is that the show's first broadcast was on January 6, 1969, over 37 years ago, on the very same frequency that the show is now returning to, 1240 AM," said Lamas. "At that time, 1240AM was the dominant Spanish language radio station in Chicago, with such radio legends as Orlando Miranda (Pelencho) and Jose E. Chapa, whose programs truly served the public interest and informational needs of our community. I look forward to keeping this tradition alive."
Robert J. Armband, publisher and CEO, La Raza newspaper
"Jose Lamas and I have had a professional relationship for more than 15 years. I am pleased to have the opportunity to work with him on this important morning drive-time Hispanic radio news program," said Robert J. Armband, publisher and CEO of La Raza newspaper. 
Lamas and La Raza will package advertising and promotional opportunities for clients interested in reaching Hispanic consumers through news formats on radio and in print. There are also plans underway to stream the radio broadcast on La Raza On-line.
Lamas is a Cuban political exile who came to Chicago in 1963. His first involvement with Spanish media started in 1966 when he began to host and produce Spanish radio programs. In 1970, he co-founded OMAR (Operations Marketing Advertising and Research), Chicago's first full service Hispanic advertising agency, where he was vice president of Marketing and Sales. In 1985, Lamas joined WSNS-TV Channel 44 as general manager. 
La Raza newspaper is a leading Spanish language newspaper in Chicago with an audited circulation 190,544 according to Certified Audit of Circulation (June 30, 2006). It is also among the largest Sunday Hispanic newspapers in the United States.  La Raza Chicago, Inc., is a subsidiary of ImpreMedia LLC. ImpreMedia is a leading publisher of Spanish language newspapers in the United States. It publishes Spanish-language newspapers in six top Hispanic markets.