Posted by Elena del Valle on November 27, 2006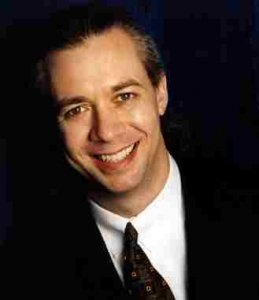 David Henry, president, TeleNoticias
Photo: TeleNoticias
A podcast interview with David Henry, president, founder, TeleNoticias is available in the Podcast Section of Hispanic Marketing & Public Relations, HispanicMPR.com. During the podcast, he discusses electronic publicity and broadcast public relations and his chapter of the same title in the Hispanic Market & Public Relations book with Elena del Valle, host of the HispanicMPR.com podcast. 
David has 15 years of experience providing broadcast strategy and counsel to a diverse client base. He touts an understanding of and experience with electronic media. David, who received a Bachelor of Science degree in journalism from the University of Maryland,  has experience counseling Fortune 500 clients, public relations agencies, associations and nonprofit organizations. He has executed broadcast strategies for new product launches, existing brand communications, issues management, crisis communications and special events.
David began his career at Creamer Dickson Basford, a New York public relations agency.  He then held positions at broadcast public relations companies Medialink, Orbis Broadcast Group and On The Scene Productions. His past clients include Goya Food Inc., Johnson & Johnson, Visa, Levi Strauss & Co., Pfizer, Inc., Post Cereals, Mattel, Inc., McNeil Consumer Products, Sears, Philips Electronics, GlaxoSmithKline, Proctor & Gamble, Nabisco, Weight Watchers, Ortho-McNeil Pharmaceuticals and the American College of Physicians.
A member of the Public Relations Society of America (PRSA) for more than 15 years, David has earned the designation Accredited in Public Relations (APR).  He was the 2003 chair of the PRSA National membership committee and 2003 chair of the PRSA Health Academy, one of the largest groups in PRSA. He has also served as a judge for the PRSA Silver Anvil Awards and for the New York chapter's Big Apple Awards for the past 13 years.  He is a frequent guest lecturer at New York University and has spoken a various public relations conferences.
 
To listen to the interview, scroll down until you see the "Podcast" on the right hand side, then select "HMPR David Henry" hit the play button or download it to your iPod or MP3 player to listen on the go, in your car or at home. To download it, click on the arrow of the recording you wish to copy and save to disk. The podcast will remain listed in the November 2006 section of the podcast.
Click the button to hear the podcast:
Click here to sponsor a HispanicMPR.com podcast
---
"Electronic Publicity and Broadcast Public Relations" audio recording

David Henry presenter
To purchase a downloadable or CD audio recording with a presentation on Electronic Publicity and Broadcast Public Relations by David Henry visit the HispanicMPR.com Resources Section
---